Nollywood Actress Threatens To Destroy Tito Da.Fire's Wedding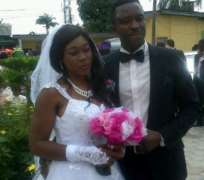 Soon after his subtly publicized wedding, on November 2, 2013 which insiders revealed was planned to be a secret wedding, Tito Da.Fire barely through with honeymoon has come under the radar. A Nollywood actress named Chichi who incidentally was an ex-girlfriend of the handsome singer, Tito Da.Fire, has vowed to disrupt the singer's honeymoon with his newly wed bride, Ify.
She went a step further to dare the singer to release songs she allegedly inspired the singer to write during their good times together as lovers. According to a mail chichi sent to a blog,"I was there for Tito when he shot his "Pour Me Water" Video, and I even challenged one Tv presenter, Anjola who was trying to get his attention, I told her to stay away from him." He never told me nothing would come out of what we had"
The angry actress says she knows at least two songs which the singer wrote in her presence, one song she doesn't lay claim to inspiring is a song about mother. But insists a song he wrote about a fine girl is about her, that she suggested a title for the track, and will release soon pictures of herself and Tito to verify her claim.
Effort was made by us to reach the presenter, Tito Da.Fire's management on phone, however none of the calls were returned.
It would be recalled that the singer was in previous times romantically linked to several female industry figures