Nigerian Customs Vs Dr.Mabayoje: 40ft Container of What?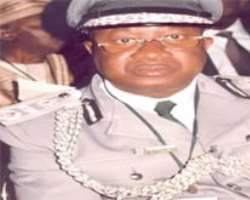 "Do no harm" was the hippocratic Oath Dr. John Mabayoje took when he enlisted as a physician, but the question now is, what is the physician cum hunter, doing with a 40ft container allegedly filled with ammunition. Information made available to Huhuonline.com reveals on Tuesday 6th October, 2009, a forty foot container of live ammunition, and arms assembling tools imported from the United States, amongst other items, were impounded by the Apapa Area 1 Command of the Nigerian Customs Service (NCS).
According to a Nigerian Customs source who spoke to our correspondent, Dr. Mabayoje had attempted to hoodwink NCS, "his 40ft cargo container was listed as containing personal effects, but when officers acting on a tip off, opened the cargo container, they uncovered assorted military equipments.
Our checks reveals that the Cargo container was scheduled to be delivered to a South West Hospital in Oyo State, however, when our correspondent visited Oyo State, no record of the said hospital could be found as at press time.
Now, "Dr. Mabayoje who has strong ties to a section of the media has resulted to cheap blackmail, instead of answering the questions". An NCS source added.
But sources close to Dr. Mabayoje, who is currently incarcerated, maintain that the 40 ft cargo container were personal effects and hospital equipments. Dr. Mabayoje`s letter to the media reads:

"I am a Nigerian physician practicing in the United States of America over the past 20 years. I am an Emergency Room specialist as well as having specialization training in Internal Medicine and Family Medicine. I have never been convicted of a crime in the US, Nigeria or any other country or jurisdiction.
Since November 2005, I have made my intention to return to Africa known. I have had a burning desire to contribute to medical care on the continent by setting up what I had designed as an ideal hospital for an African context. I wanted to build a hospital that would function as a diagnostic center, provide care for 40 inpatients and be equipped with an 8-bed ICU and Emergency Room.
My original intention was to set up this hospital in South Africa since the government there had expressed interest in having American-style hospitals built there to complement the Cuban-style hospitals they have been dependent on for health care services. There was also a personal reason for my choice of South Africa or one of the countries in that region: my passion for hunting.
But once my Nigerian friends and relatives got wind of my plans to set up a medical facility in South Africa, they asked why I would not set up in Nigeria. These Nigerians, some of them top professionals or occupants of political posts, argued that by setting my hospital in Nigeria, I would be taking a great step in encouraging other Nigerian physicians to return home and also establish hospitals that would be totally independent as well as provide services to the standard of a rural hospital in the US.
I explained to these people that I have a passion for hunting, having achieved the status of a prominent international big game hunter with several hunting awards including a world record hunting shot to my credit. I attended meetings with some of these prominent Nigerians in London in December 2005 and 2006 and I was asked what it would take for me to come and set up this pilot hospital in Nigeria. In response, I made it clear that I would return to set up the hospital in Nigeria if my hunting rifles were licensed in Nigeria. The licensing would enable me to continue to go hunting in Southern Africa regularly during my free time. My request was eventually fulfilled, and the new licenses for my hunting guns paved the way for me to start construction of my hospital.
In March 2008 I came home to Nigeria with my wife, an operating room nurse, and started to look for a suitable site. We found one in a rural area of Oyo town and then acquired an appropriate site.
From March 2008, we made numerous trips to Nigeria and finally in April 2009 we broke ground at the site and started moving medical equipment home. In July 2009 I packed and shipped half of my belongings together with the equipment for the clinic. Included in the shipment were maintenance equipment as well as building items for my residence-in-progress and the first part of the hospital. I engaged the services of Soft Touch Moving and Storage Company in the US to pack and prepare my container for shipment to Lagos, Nigeria.
The goods reached Lagos port on the 28th of August. Since then I have made three trips to get my goods released, but I was told by Customs that I would have to wait for them to finish their paperwork in Tin Can Island container terminal. After much frustration, I authorized a release to my host, Mr. Olufemi Ajanaku, and returned to my duties as a physician in the United States of America.
However, on Friday the 2nd of October, I received a message from Mr. Ajanaku to the effect that the Customs had arrested the clearing agent's clerk on the grounds that they found empty bullet cases and reloading dies as well as a few unloaded bullets/spent bullets recovered from game I had shot. These items were in a shoebox among my personal effects. The Customs officials emphasized that I had no LIVE AMMUNITION or guns in the container. I told Mr. Ajanaku to inform the Customs that I would be on the next flight down to Lagos. I also emailed him the copy of the firearm licenses for my wife and me to forward to the Customs and the Police. I included a letter asking the agencies to patiently await my arrival early this week.
I booked the next available flight to Lagos and I am scheduled to leave this afternoon. At about 8.00 a.m., I spoke to Mr. Ajanaku and told him to assure the Customs and police that I would be in Nigeria tomorrow afternoon and would present myself to the authorities immediately upon my arrival. I later received a call from Mrs. Ajanaku informing me that some officers of the Customs and Excise had arrested her husband soon after I spoke to him.
I leave for Nigeria this evening 10/6/2009 and will arrive by tomorrow afternoon not knowing the fate awaiting me. I am going with all the relevant documents, including firearm licenses and hunting awards and testimonies on various opinions I have" written on bullets for manufacturers in the USA and Australia.
I am a life member of the Safari Club International (membership #05867) and I have been featured in the trophy room section of a website: www.dakotaarms.com. I have been featured in several shooting magazines. The June 2009 edition of Precision shooting magazine featured me in a cover story.
Yours Sincerely
Dr. John Mabayoje