Joe Igbokwe: What Is Really Wrong?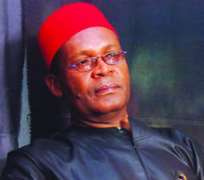 Uncle Joe, I have deliberately refrained from joining issues with you for the respect I have for you. I am surprised that every day you keep mentioning Gov. Peter Obi's name even when it is absolutely not necessary. I wonder what went wrong!
As for Uke tragedy, Alloy Attah was there. Joe Martin was there. I was there. Are you the one to tell us the truth about Uke? Were you there? Are you saying that Peter Obi did not leave 3 hours before the tragedy? Are you saying people did not come to Adoration Ground carrying Ngige posters and APC brooms? Are you saying that Peter Obi should not wear APGA cloth to the Church? What exactly are you saying Uncle Joe?
In spite of want people will say about me, let me tell you that there are certain things I cannot do because of money. All the support I gave to Peter Obi were out of conviction and you know about that. You have also written about that.
It may sound incredible, but I met Obi for the first on the 16th of February, 2006. Today, the Governor tells me that part of the trust he has in me was the fact that when he was struggling for his mandate, that I was the only person that wrote consistently in his support without his having met me in any manner.
Even when Ngige was buffeted by the Ubahs, I wrote in his support, though always reminding him that the mandate was stolen.
I knew some journalist that called me personally over the text message Dr. Chris Ngige sent to them immediately the Uke tragedy, feeding them with lies to write about in the papers. Haba, tell Ngige that he should stop being childish in behavior. May be they sold the same lies to you and you believed it.
Today, during the debate, he said he promoted Civil servant and paid arrears of salaries and pensions owed them. This is typical of Ngige. He lies without compunction. When Ngige was the illegal Governor, he only paid salaries and did not pay arrears to anybody.
Is it that you no longer understand Ngige as you did through your past write-ups or that you are under pressure by your party to support him?
If nothing, politics and public service has enabled me to learn more about the nature of man. He does in politics exactly things that are contrary to his beliefs when not in politics. So mingled of angel and brute, man repeats the contradiction of mind and body and reminds us of the Chimera, which in Greek mythology, was a she-goat with a lion's head and a serpent's tail. Thus, Blaise Pascal says of man: "What a Chimera is man! What a novelty, a monster, chaos, a contradiction, a prodigy, Judge of all things, and imbecile norm of the earth; depository of truth, a sewer of error and doubt; the refuse of the universe. Who shall unravel this confusion?"
What is really wrong?
Disclaimer:

"The views/contents expressed in this article are the sole responsibility of

Valentine Obienyem

and do not necessarily reflect those of The Nigerian Voice. The Nigerian Voice will not be responsible or liable for any inaccurate or incorrect statements contained in this article."