SEX INFECTION FRANKNESS IS 'KEY TO LONG RELATIONSHIP'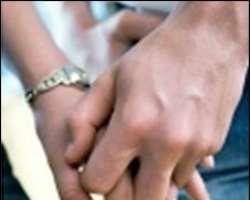 Young people think frank conversations about their sex lives signal that a relationship will last, says a survey.
The government-funded Populus poll of more than 1,200 15 to 24-year-olds cited talking about sexual infections and a person's sexual past as key.
They even thought this was a better sign of a relationship getting serious than meeting parents.
But 73% admitted that they did not talk about sexually transmitted diseases before having sex with a new partner.
And 30% said they felt uncomfortable asking a new partner to use a condom.
Relationship milestones
The research, which was conducted on behalf of the government's "Sex. Worth Talking About" campaign, provides a snapshot of the milestones that this generation think important for a lasting relationship.

These findings reveal much about the modern relationship game
Dr Catherine Hood, spokesperson for the "Sex. Worth Talking About" campaign
Top of the list was "talking openly together about sexual history and discussing sexually transmitted infections tests together", which 70% thought important.
This was ahead of "meeting the parents", which was thought significant by 66%, and "not always having to wear make-up", cited by 47%.
Much lower down were "meeting friends", 40%, and "being given space in the cupboard to leave clothes", 30%.
Too embarrassing
The survey showed that while young people valued openness about sexual diseases, many were too embarrassed to talk frankly with their partners.
While half of respondents thought that a new partner who was unwilling to discuss these topics would not be around for long, a quarter confessed they were too embarrassed to talk to their partner about safe sex, sexually transmitted infections and contraception.
Paula Hall, from the relationship charity Relate, said she was not surprised that people thought openness about sexual health was important for the success of a relationship.
"If people are not intimate enough to be open about this, the relationship is unlikely to go far."
She said the findings were both "encouraging" and "depressing".
"The fact that discussion of sexual infection is so high up young peoples' agenda is really good," she said.
But she said it was "worrying that this is still an embarrassing topic, even among today's generation of kids who expect a high degree of openness in their relationships".
Modern relationships
Dr Catherine Hood, spokesperson for the "Sex. Worth Talking About" campaign, said: "These findings reveal much about the modern relationship game.
"While many young couples realise the significance of being able to talk openly about accepting tests for sexually transmitted infections, sheer embarrassment is preventing them from doing so, and potentially risking their sexual health as well as the future of their relationship."
She stressed the importance of young people being tested for chlamydia, a sexually transmitted infection which often doesn't have any symptoms.
"If left untreated, chlamydia can lead to infertility and other serious health problems, and so it's vital that new couples take responsibility for their own sexual health by talking openly about safe sex," she added.