Saheed Balogun To Act With Ex-Wife If...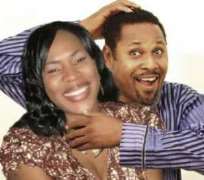 Saidi Balogun is one actor who has been trailed with several controversial issues. Recently, he spoke with REPORTER, Lukmon Akintola, on speculations surrounding his person and more.
What have you been up to since you produced your last movie, You or I?
First, I need to tell those who have not seen the movie what it is based on so that they can go and watch it. The movie focuses on the reasons marriages crash. Basically, it is a story about marriage and finding answers to the questions about the challenges of married couples. To answer your question, my production outfit sets records in the movie industry. I have produced a two-cast movie, one where all the characters wore Ankara fabric throughout and most recent a movie featuring an all white cast. So, we are putting finishing touches to another innovation that will be coming out soon.
Have you heard of my one-cast movie? That too is an innovation.
How would you describe its commercial success?
It was marvellous. Initially, the marketing was not what we expected, but it picked later and we thank God. The movie has delivered what we targeted when we began working on it. Besides, other achievements, it became the first two-cast movie in Nigeria, if not in Africa. That is a record and I set it.
Has it won any awards yet?
It won an award in London. In Nigeria, however, it is yet to win any. But I won't dwell on that.
You seem to always get involved in one controversy or the other. Why is this so?
The grace of God has kept me going. I don't allow scandals to affect me. You need to understand that if someone is talking about you, you have to thank God because there are people who are looking for people to talk about them. My plea to writers is that they should contact me first before writing about me. Some of the things I have read about myself are things I can't imagine myself doing.
Tell us about your current relationship because at a point in time they said you remarried secretly?
You see, you need to leave my relationship alone for now. When the right time comes, I will talk about it. The story that I remarried was a funny one.
What is your relationship with your ex-wife, Fathia?
You are still talking about my privacy.
What would be your reaction to a producer who pairs you and Fathia as a couple on a set?
I am a professional in this field. I will do it, if the pay is attractive. I used to refuse to think of the possibility before, but it can actually happen, if the pay is attractive I will do the movie with her.
Giving the opportunity, would you turn back the hands of time to be with your ex?
I am doing perfectly fine as I am. I am happy the way God has been leading my life. I respect women a lot.
What is the nature of your relationship with Remi Adikwu-Bakare?
She is like a mentor and a mother to me. She enlightens me on business and other matters. When I left the hospital, she and her husband were the people who were there for me. I can't forget them for any reason. I was insane for the first two weeks that I had the accident. I was a dead man walking, but God used them to bring me back to life.
How soon do you hope to try married again?
It is a private question, but I am married to my business for now. I am married to Saidi Balogun Production. I can marry an actress if the person is the right one God has chosen for me.
Tell us about the woman in your life
Some things are better kept private. I don't want to raise unnecessary dust. I am doing just fine.