Vision 2020: Nigeria must invest massively in education to achieve target, says Moghalu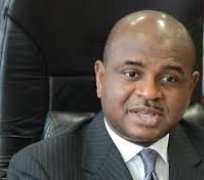 Dr Kingsley Moghalu, Deputy Governor, Central Bank of Nigeria(CBN) has said that for the country to achieve its vision of being among top twenty economies in the world in 2020, it must invest massively in education.
Moghalu said this in Nsukka on Saturday while presenting a lecture title 'The Human Capital Dimension of Economic Transformation' during the golden jubilee ceremony of the 1st graduates of University of Nigeria Nsukka.
He said that human capital development is strategic to the scion-economic development of a nation since the economy growth depends on quality of knowledge, skills and productive capacity of a country.
'It is important for Nigeria to begin to make massive investments in education and human capital, otherwise it lofty vision to be one of the top 20 economies in the world by 2020 could be unrealizable.
'Nigeria needs education that will equip more of its citizens in vocational skills, science and technology that forms the basis for real sector growth, 'he said.
According to him, an educated population would enhance productivity and efficiency that result in quick economic growth.
'The education system faces enormous challenges which needed to be addressed if the country will evolve into knowledgeable economy and transformation of the country
'Though Nigeria education has witness improvement but not ye fit for competitive global market.
'Until our educational institutions start producing graduates that will favoruably with their counterparts in world, we have not started,'he said
He urged government to pay much attention to quality than access to education, adding that without of education the economy would continue to suffer.
'I a not saying that more people should not have access to education but quality would help to move fast track the economy.
'It is unfortunate that 200 top universities in the world, no Nigeria university a is listed as result of poor quality.
'Teacher should be respected and paid good salary if they must give best,
Government should ensure adequate facing of the system as well as ensuring that only qualified teachers are recruited, 'he said.
In remark the vice chancellor of the university Prof Bartho Okolo commended the first graduates noting that they have brought respect to the university as the have contribute immensely to national development.
'The university is proud with first graduates of this university as they have been good ambassadors, great lions and lioness
'However they should not relent in making the university a world class, 'he said
In a remark, the chairman governoning council of UNN, Mr Emeke Enejere who also was the chairman of the occasion said the first graduates set of 1963 were trail blazers of academic excellence of the university.
'In 1960 the university matriculated 202 while 163 became the first set of graduates in 1963
'If we do not know the past, we will not understand present as well as influence the future.
'We solicited your continued assistance of all in tackling numerous challenges facing our alma mater in becoming world Class University today,' he said,
The golden jubilees of 1st graduates of UNN were attended by pioneer graduates from different walks of life.