Airtel Offer Nigerians Opportunity To Own Nokia Lumia 520 Smartphone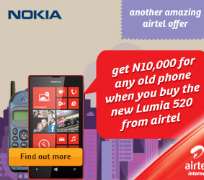 .....Offer Is Another First From Airtel Nigeria
Lagos Nigeria; September 10, 2013: Leading telecommunications service provider, Airtel Nigeria and Nokia, have partnered to provide Nigerians the opportunity to exchange any of their current handsets for one of Nokia's swank smartphones, the Lumia 520.
To qualify for the Airtel/Nokia phone upgrade programme, customers need visit any of Airtel shops with their old but functional device of any given brand and network, then pay an exchange fee of N23, 990, to own the Lumia 520.
The offer also gives customers who embrace it up to N10, 000 worth of value for exchanging their old devices for the new Lumia 520 as they stand to enjoy 6 months free airtime for on net calls and data worth N6, 000.
In addition, customers will also enjoy the device value discount worth more than N4, 000, based on the current market retail value of N28, 000.
Speaking on the offer, the Chief Sales Officer of Airtel Nigeria, Inusa Bello, said the initiative is another first by any operator in Nigeria, saying it will further provide telecoms value to Nigerians in line with its commitment to become the most loved brand in the daily lives of Nigerians.
Said he: "the phone upgrade programme is yet another unique initiative by Airtel and Nokia to provide Nigerians a rare opportunity to own smartphone devices, complete with innovative applications to enhance their communication experience. Also, the additional value of free voice and data services is one more reason for consumers to port to Airtel."
General Manager, Nokia West Africa, Mr. Chris Brown said Nokia was ecstatic that the Lumia 520 had been chosen as the smartphone of choice for consumers to get their first smartphone experience on. He also applauded Airtel for leading the way on a much requested upgrade opportunity which will offer consumers the best starter kit with the device discount and a fully loaded phone with free airtime and data for easy internet access.
About Bharti Airtel Limited
Bharti Airtel Limited is a leading global telecommunications company with operations in 20 countries across Asia and Africa. With headquarters in New Delhi, India, the company ranks amongst the top 5 mobile service providers globally in terms of subscribers. In India, the company's product offerings include 2G, 3G and 4G services, fixed line, high speed broadband through DSL, IPTV, DTH, enterprise services including national & international long distance services to carriers.
In the rest of the geographies, it offers 2G, 3G mobile services. Bharti Airtel had over 264 million customers across its operations at the end of July 2012. To know more please visit, www.airtel.com