ANAMBRA GUBER: OJUKWU SATISFIED WITH OUTCOME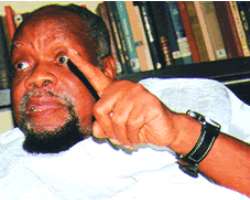 Anambra guber: Ojukwu satisfied with outcome
From PETRUS OBI, Enugu
Wednesday, March 03, 2010
Dim Chukwuemeka Odumegwu Ojukwu
Former warlord and Ikemba Nnewi, Dim Chukwuemeka Odumegwu Ojukwu, has expressed satisfaction with the February 6 governorship election in Anambra State, describing it as the most credible election ever conducted by the Independent National Electoral Commission, (INEC) in the country.
The National Leader of All Progressives Grand Alliance, (APGA) who openly campaigned for a second term for Governor Peter Obi, also urged those who were not satisfied with the outcome of the election to seek redress in court.
Speaking for the first time after the historic victory of Governor Peter Obi in the Anambra election, Ojukwu said he was absolutely elated that the people of Anambra State heeded his call to give APGA's candidate a second mandate to continue with his developmental strides.
He said he was very proud of the general conduct of the Anambra election which, according to him, had set a pattern that would guide the nation in conducting future elections.
Said he, 'the Anambra election was exceptional; It is the best I have ever seen in Nigeria.
Though I haven't been to many abroad but certainly it was good, it was disciplined, it was orderly and what I am looking forward to is that this has produced a pattern we are looking for, something we can always point at and say I do like Anambra.
'I am absolutely elated by the decision of Anambra people to elect Governor Peter Obi for a second term. Let me take this opportunity to thank the people of Anambra State for their loyalty, for their diligence and really for their support. Anambra, you will not go wrong. They followed me to the last pace and they produced a result which is so resounding that even now people are still talking about it.
'I am actually elated and I feel very good about it. I feel justified in most of other things I have done in life that at the end of the day I am where the people are. Anambra people and indeed all others, because the type of congratulatory messages I have been getting show that it wasn't just Anambra. I regret that, that wasn't a national election; it would have been wonderful if the results were the same as reflected here.'
'I asked my people to stand by me and the result clearly indicates that my people stood by me and are still standing by me. I thank God also for finding me worthy of such a manifestation of His goodwill. I feel very proud.'
Reacting to some criticisms trailing the election, Ojukwu, who was the presidential candidate of APGA in 2007 election, said: 'What do you expect them to do, to say we support APGA for beating us? It is not possible, we are Nigerians after all. I say we did very well. Everything that has been done can be verified and in any case you and I know that if you go into an election and you don't get the result you think you deserved you go to the court.'
'I am inviting those who don't feel that the election was fair to please not to hesitate, no matter their ranks in our society, please, the courts are opened, go and get the result that you deserve,' he added.
Ojukwu, however, urged Governor Obi to justify the support giving to him by Anambra people by ensuring rapid development of the state, assuring that he would continue to give the governor the support he needed to succeed in his second tenure.
'I am not saying Governor Obi is good or bad, I have supported him, I will support him tomorrow, I haven't seen anything that will stop me from supporting him even a day after tomorrow. But he is a human being, I urge him to seek further glory on his election field. I would like him not to rest on his oars.