Again, woman conceals heroin in her hair •Blame cancer for my action –Suspect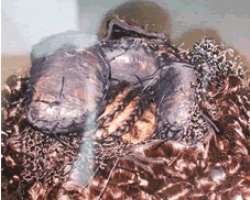 Wraps of heroin concealed in her hair
Another woman, who converted her hair to drug courier has been arrested at the Murtala Muhammed International Airport, Ikeja, Lagos.
It has now become a new trend in drug trafficking, especially among women. The suspect, Vivian Metu, 39, who fixed 1.500 kg of heroine in her hair was among the suspected four drug traffickers arrested recently by the operatives of the National Drug Law Enforcement Agency (NDLEA).
Two hundred and thirty wraps of substances, which are cocaine, weighing 3.440 kg, were ingested by the three male suspects, including an undergraduate.
They are Ezeamama Celestine, 38, who ingested 91 wraps of cocaine weighing 1.470 kg, Obasi Stanley, 24, who swallowed 76 wraps of cocaine weighing 1.140 kg and Ozonwechukwu Chinedu, 37, who ingested 63 wraps of cocaine weighing 830 grammes.
Vivian was said to have prepared the heroin in three black parcels and fixed them on her hair. She was arrested during the screening of passengers on Ethiopian airline to Guangzhou, China.
The single mother, who is a 2006 graduate of Economics at the Lagos State University (LASU), said she wanted to raise some money for medical treatment.
"I know that my friends and relatives will be disappointed, but I needed money for my medical treatment abroad. I am an international trader but I am suffering from cancer," she was quoted as telling the narcotic agents. Reacting to the new method of concealing hard drugs in the hair by women, the Chairman/Chief Executive of NDLEA, Alhaji Ahmadu Giade, said the discovery was a further proof that traffickers were running out of method of drug concealment.
"This is not the first time that drug traffickers will conceal drugs in hairs. They are definitely running out of tricks due to our counter efforts. This is good for the country, as drug traffickers and their sponsors shall not go unpunished," the NDLEA boss vowed.
Ugochukwu, an undergraduate studying in Italy, was nabbed during screening of passengers on Air France to Italy. He claimed to be a 300 level Agric engineering student at Padova University, Italy.
"I requested for financial assistance and I was told to smuggle drug and be paid 5,000 Euros. This is my first time and I agreed to smuggle drugs because of my education," he said.
Story by CHRIS ANUCHA -Sun News