Collette Orji Marks Birthday, Host 100 Mothers For Coco Medicare Foundation Launch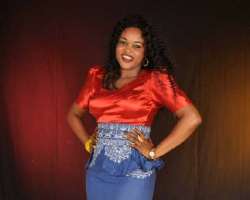 Sultry and talented Nollywood star, Collette Orji is a year older today, August 10, 2013. The delectable and widely loved role-interpreter is excited about it and she is celebrating it in style.
Collette, who has worked very hard to earn a reputation in the film industry in Nigeria, is launching her foundation on her birthday as a way of giving back to the society she has got a lot from, especially mothers and the female folks, who has embraced her with unending love.
The darling of many silver screen star is launching her foundation called Coco Medicare, which is aimed at giving treatments to women with high and low risk ailments in India.
According to her, the desire to give back to the society came after her mum underwent a successful knee surgery at a hospital in India.
"My mum had a knee surgery in India this year and their services wowed me. I was like wow, is this real?, Collette told Nollywoodgists.com. She added that, "they reached out to me, and I agreed to help give services to many others. So, that's how Coco Medicare foundation came about."
Speaking further, the prepossessing emperor of epic-movie said, "I stand as the instrument to assisting millions of others get amazing treatments in India at a great discount from what it should be. Then, I need to make mothers, women, ladies also to understand that health is wealth but information is life. So, I want information to be the core of this organisation .if that's all I can offer you, I will be happy."
"We've got a team of trustees involving some medical doctors and intelligent youths from diverse careers. Trust me, Coco Medicare Foundation is here to stay and invest in human lives for the good of us all," she also added.
"So today, we will be hosting 100 mothers, widows, women, ladies and there won't be any man in our midst at the official launch. I want to do something for the mothers. It's high time we celebrated those who are the instrument of life.
Coco Medicare Foundation is in partnership with Wockhardt Hospitals in India and Nollywoodgists.com.