Mark condoles Fashola over father's death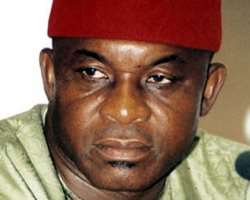 President of the Senate Senator David Mark has sent a message of condolence to the governor of Lagos State Babatunde  Raji over the death of his father Pa Ademola Fashola.
In a statement, Mark's Chief Press Secretary, Mr. Paul Mumeh said his boss' message to Fashola and people of Lagos state noted that Pa Fashola lived an eventful and accomplished life  worthy of emulation.
The statement quoted Mark as saying, "I received the news of the death of your beloved father with shock and sadness at a time his wealth of experience  and wisdom is most needed. I am however consoled that your father lived an exemplary life and left a legacy of selfless service to the community.
"Your track record of achievements especially your excellent performance as the governor of Lagos State bears eloquent testimony that your father left a legacy of integrity and excellence.
"I can only urge you to continue in that stead and live up the billing as a further testimony that Pa Fashola lives."
According to Mumeh, Senator Mark predicted that history will be kind to Pa Fashola for his meritorious services and contributions to the development of his community, especially in Lagos State.
He added;  "Pa Fashola will surely be given a pride of place when history especially that of Lagos State is written".
Mark, according to the statement, enjoined the government and people of Lagos State, particularly the bereaved family, to take solace in the fact that Pa Fashola left positive footprints in the sands of time.