APC: Shettima Congratulates Nigerians, Says Party Must Make A Difference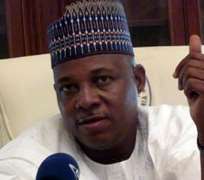 SAN FRANCISCO, August 01, (THEWILL) – The Borno State governor, Alhaji Kashim Shettima, has congratulated all Nigerians on the registration of the mega party, All Progressives Congress (APC). He however challenged the leaders of the newly-registered party to strive exceptionally hard to make a difference if the party is to be taken seriously by Nigerians.
In a statement issued on Thursday by his Special Adviser on Communications, Alhaji Isa Gusau, the governor, who is also one of the promoters of the party, maintained that the new party must quickly convince Nigerians that the quality of governance will be greatly improved to better their lives regardless of their ethno-religious and socio-political affiliations.
Shettima noted that with the calibre of credible political leaders, highly respected technocrats, academicians, successful captains of industry and rights activists associated with the party, "Nigerians expect an immediate indication that the party is coming up with something new to turn the fortunes of the country for the good of all Nigerians and as such, leaders and members must now begin to think critically ahead of the formal interactions with Nigerians."
According to the governor, "I am very optimistic that our party has very patriotic, credible and competent Nigerians who are selflessly ready to work for the quick re-invention of Nigeria for all Nigerians.
"We have highly respectable people and this is why Nigerians have very high expectations from the APC, we must then get to work immediately as a family, to think out of the box, to bring something new and concrete that is capable of making the difference.
"Nigerians have so much demands but the demands are just about basic things that are well achievable, we do not need rocket science to provide things as basic as potable water, sound education, quality healthcare, jobs, security, roads, electricity and other very basic essentials of human existence that are no longer in the demand lists of other countries with less our human and material resources.
"Nigerians have confidence in us and we just cannot afford to let them down and indeed let ourselves down. The registration of the APC is therefore both a thing of joy and a challenge to us as progressives because we have now gotten a major tool to use in championing the course that we have regularly advocated for as individuals and as a group, Nigerians will definitely scrutinise what we will bring on the table to look out for fresh dimensions to problems solving.
"I join in congratulating all Nigerians especially the leaders, members and supporters of our great party,the APC who worked tirelessly to create an alternative platform to deepen our democratic process; I congratulate the INEC for once again,earning the confidence of Nigerians and reaffirming our abiding fate in the electoral process, I congratulate all progressives who share that desperate crave for a better Nigeria through legitimate means that the APC provides.
"I also importantly join in thanking the media for very fair but deserved publicity accorded to the APC and for regularly monitoring every step of the way, leading to the party's registration as lawfully desired by the party's actors and promoters. I pray that peace returns to every part of Nigeria in no distant time and I do solemnly pray that Nigeria recovers and grows steadily to become the real giant that we so wish for us, the African continent and indeed the world."