SHARE BUYBACK TO THE RESCUE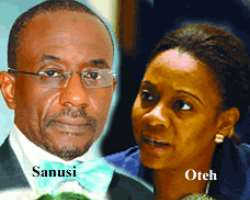 http://www.nigerianbestforum.com/blog/wp-content/uploads/2010/03/oteh-sanusi.gif The Nigerian capital market suffered so much price depreciation during the meltdown. The depreciation resulted in investors' confidence of the companies quoted on the Nigerian Stock Exchange (NSE) being eroded. Although the market is showing signs of recovery, companies are still weighing options of shoring investors' confidence in their stocks through price appreciation.
One of the options in consideration is through share buy back.
A share buyback occurs when a company repurchases its own shares from the market. Companies may decide on a stock buyback if they feel their shares are undervalued. A stock buyback can also occur when companies have excess cash on their balance sheets. Stock buybacks may be executed in the open market at prevailing prices, over an extended period of time.
However, the intention of the company for buyback may differ from company to company. This is because if the aim of stock buyback for a company is to acquire a large percentage of the available shares; it may not be the same for the other company. Whichever, it may be done as a tender offer with shareholders receiving a premium over the market price. Nonetheless, by repurchasing all outstanding shares, a stock buyback can be used to turn a public company into a private one.
This occurs when investors begin to lose attraction in a stock because of share price drops.
The dropping prices of shares on the floor of the Exchange on a daily basis informed the decision of companies to look for a way out. This is because the number of authorised shares that go with these companies continued to swell with bonus issues and rights issues that are included in the shareholdings of the companies.
The implication is that whenever the company decides to issue bonus or pay dividend, the number of shares of individual shareholders comes into consideration. This implies that there will be increased shares to be accommodated in either bonus issue or dividend payment.
This is because, in the event of a company giving one share for every two held, the shareholder who is having 200 units will now have additional 100 shares to sum up his holding to 300 shares. This helps to increase the company's authorised shares to shareholders advantage. On the other hand if the company decides to pay 50 kobo per share, what it means is that any investor who has 5,000 shares will invariably get N2, 500.00 and so will other companies with shareholders who have higher volume of shares.
Another reason why a company will decide to buy back its shares is just what obtains on the floor of the Exchange. The fact that company share prices are dropping on daily basis could force the company to buy back its shares as a way of creating artificial scarcity that will help to shore up the price of the stock. Company can also increase its share price when people look for the stock and could not find them thereby staking any amount to buy it.
The exercise of buy-back is exactly cheaper now and most attractive to companies because it will pay better to lose some shares when the prices are low than when they are high. This may be reason why the clamour for share buy-back by companies and the appeal for Securities and Exchange Commission (SEC) to give approval are not only timely but expedient.
A stock buyback may be viewed as bullish or bearish. Bulls view a stock buyback as putting a floor under the stock price by reducing the supply of shares, while bears see a stock buyback, as a sign that management can't put the cash to better use.
With share prices of listed companies continuing to plummet, management of companies are devising means of retaining the value of their shares. Most of the companies are considering either reconstructing their shares or buying them back.
However, under accelerated repurchase programs, a company buys back shares immediately from a bank, which borrows the shares it sells to the company. The bank then purchases shares over time in the open market to settle its borrowings. The company's repurchase is typically subject to a financial adjustment based on the volume-weighted average price, less a discount, of the shares the bank subsequently buys during the repurchase period. The minimum and maximum price and number of shares to be repurchased under such arrangement typically sets an agreement.
When the NSE was contacted on the issue, Sola Oni, Assistant General Manager and Head Corporate Affairs said that the Exchange will do anything to support any company embarking on share buy back. According to him, once the company receives SEC approval, the NSE will do all in its capacity to make it succeeds. He said that unless SEC gave the approval, no company can carry out the exercise. Share buy back must be done with regulatory authorities backing it; otherwise it will be effort in futility.
Some companies are mooting the idea of approaching the Commission for approval to buy back their shares. If the Commission considers their position, then the capital market will witness the functions of buy backs in an economy like Nigeria's. Many markets in the world embrace share buy back as a way of bringing their rattled economy back to state. Although the exercise is new in Nigeria, its legislation was promulgated about two years ago with the regulator not doing much to bring it to functional lives.
This is because, the apex regulator, SEC ought to create an awareness that will help to educate both the companies and their shareholders on the pros and cons of the exercise to enable those who will support it or criticise it have bases. The fact that most companies have not started it is an indication that most of them have not really understood the rules and regulations and the way it will benefit either the company or the shareholders.
Mr. Lanre Oloyi, the spokesperson for SEC told Daily Sun that the Commission does not stop any company from embarking on share buy back. He said that only Custodian and Allied Insurance has officially applied and have received approval. Mr. Sam Willie Ndata, a stockbroker said that the system, though is new in Nigeria, both the regulators and operators should look outside and see how other economies carried out their own exercise.
He said that the system took place in the United States of America when Dollar Tree revealed that its agreement with Merrill Lynch would result in the repurchase of about $100 million of its common shares under an accelerated share-repurchase program. The retailer said it would acquire the shares under a $500 million share-repurchase program announced on November 21, 2006. Once the transaction is completed, the company will have about $98 million remaining in future authorized share repurchases. This is Dollar Tree's third accelerated share-repurchase program since December 2006.
Under the agreement, Dollar Tree will immediately pay $100 million, and then will initially receive about 1.6 million shares, based on a calculation of roughly 70 percent of the top end of the collar. It will receive the additional shares by the end of an estimated 1- to 4.5-month period anticipated to complete the transaction, depending on market conditions. All of the repurchased shares were to be retired by the company.
Bob Sasser, president and CEO of Dollar Tree while reviewing the exercise said: 'We believe share repurchase, facilitated in part by accelerated share-repurchase programs, is an efficient use of capital that provides long term benefit to our shareholders,'
In late July, the company completed its second accelerated program for $150 million, announced on March 29, 2007; which was followed by $75 million of open-market purchases completed in early August under a 10b-5-1 plan.
On August 13, The Clorox Co. said it had entered into an accelerated share-repurchase agreement with Citibank and JP Morgan Chase Bank. Under the agreement, Clorox repurchased $750 million in shares under its previously board-authorized $750 million stock-repurchase program at an initial repurchase price of $59.59 per share. Final settlement of the Clorox repurchase program was scheduled for no later than January 24, 2008, but it occurred earlier under certain circumstances.
Following the market meltdown in Nigeria, regulators inaugurated a committee with stakeholders last year on the way forward of the Nigerian capital market where various decisions were arrived. Emeka Madubuike, Managing Director, Compass Securities and Investment Limited, one of the committee members, while commenting on the sections of the committee's report as regards share buy back, noted that SEC's approval would be necessary before any quoted company is allowed to undertake any share buy back.
He said that share buyback is good but that the regulators must first of all promulgate policies that would guide its operation or else operators will mismanage it. However, Boniface Okezie, Chairman, Progressive Shareholders Association of Nigeria (PSAN) noted that companies consider options of share buy backs and reconstruction if the number of shares they have cannot allow them pay dividend from their profits. He said that if the company has money it can buy back the shares from the profits they have. They can call for shareholders' meeting to intimate them. This could also stop them from paying dividends for that financial year. When they reduce the number of shares, then they will be able to pay considerable dividend that will appeal to shareholders.
However, he said that it has to be properly done and regulated.
Okezie said that shareholders would prefer share reconstruction than share buy back. According to him, where will the company warehouse the shares bought. He stated that if there is share reconstruction, the company will reduce the number of shares in circulation. He reasoned that in share reconstruction, the company can compress the shares and increase the value per share but in buy back the shares are watered down with no intention to bring them back.
The shareholders leader said that if the company brings the intention to the knowledge of shareholders; and if the shareholders, after considering it, weighing the pros and cons declare such exercise as transparent, the company can go ahead. 'But the company will run into stormy waters if they fail to tell shareholders or after telling shareholders, they fail to consider shareholders' reservation,' he said. He said that the company must convince shareholders that the buy back is for their own interest. He noted that shareholders are against share buy back in Nigeria because of its records of lack of transparency when it comes to matters of money.
Peter Eluehike of GEE Capital and Investments Limited stated that the company going into share buy back must know where the source of money for the purchase will come from. It must weigh its profit margin or its reserve and will be able to explain to shareholders whenever they call for it. He said that the intension of Gold Link an Insurance company, to consider buy back is good but that such must be bought from the company's profits. And not only that it must be from the profits, receive regulators' approval, it must be for the interest of the company's stakeholders.
Eluehike noted the report that two or more companies quoted on the Exchange (NSE) are currently seeking approval for a buyback is not out of place.
He stated that such must be done following the stipulated rules laid down by regulators. The companies are angling to go on share buy back considering the fact that their shares are dropping on a daily bases and something ought to be done to stem it. It also could be because it is costlier to carry long list of shares that will translate into cash during dividend payments or bonus issues.
But Mr. Wilson Ezemenari, an investor and manufacturer in his opinion does not believe that the companies have any money to buy back their shares. According to him, First Bank regarded as one of the strongest in terms of capitalisation and liquidity has been paying dividend to shareholders for the past three years from their reserve profits. He wondered how the companies would get the money with which to buy back their shares if common dividend of 50 kobo per share could not be paid on regular bases.
He said, if they have the financial muscles to embark on that exercise, well let them go on, but that he doesn't think it will help in the growth of the market. He said that since they are going to use the profit that would serve for shareholders' dividend, it is shareholders' money. He said that any company that has the money for buy back should go but that the danger is that the moment one company indulges in it; you see others not having the financial muscles go into it thereby causing colossal loss to the company.
Ezemenari, however said that in that sequence, the understanding of both the shareholders and the board is important to streamline the exercise, otherwise it will backfire. He said that buying back shares of a company will in no way benefit investors because the company will have to warehouse the shares after using shareholders' money. He asked how investors that have exited the company before the expected benefits accrue.
For Engr. Anayochukwu Nduka, a partner in Add Value Limited, buy back is not the solution to the dwindling price of shares on the Exchange. He said that rather than strengthening the institutions of regulation, operators are busy seeking approval for share buy back.
Nduka said that the company's intrinsic value that emanate from the company must be structured to make the shares of the company attractive. He said that to achieve the expected level of development in the capital market, the market community which include; SEC, NSE, EFCC, CBN and Central Securities Clearing System (CSCS) must be restructured.
The restructuring will make the companies listed on the Exchange to declare results based on their real performances and not the bloating of balance sheet which makes them look healthy whereas they are really dying. He noted that a situation where a company will present healthy account to the public after accounts engineering does not and will not augur well for the expected capital market development.
Nduka said that prior to the audit of the banking industry, banks used to cook their reports and give the publics what they want them to see. He said that the result of companies in annual reports presented by companies is not enough for any financial analyst to form independent opinion from because there is no atom of truth therefrom. He said that companies used to give doctor their reports and present it in such a way that can make them look attractive.
Ebere Egerue, a research analyst with Stanwal Securities limited, in her opinion said that since it is an option of choice, there is nothing wrong with it. She said that if it is something that will revive and restore investors' confidence which eventually snowball into capital market development, then we should all go for it. She said that regulators should review their stance on the buy back issue and give their nod for companies to embrace it.
Egerue said that many a time investors fail identity what they want because some shareholder association leaders who are always bought over by companies to speak for them always tell the other shareholders what errand sent them by the company chief executives. She said that at times such errand will be detrimental to the fortunes of shareholders but the leaders would paint it in such a way that they will not see the negative angles.
'As for me, buy back, which is an option of choice, could benefit shareholders because it is the company's profits that go into it even though it would have increased the level of dividend payout. I feel that when the stock of the company become scarce, investors would gain what would have been lost through share buy back. It will be pertinent for companies embarking on share buy back to assure shareholders that the exercise would not affect their yearly dividend payments,' she said.