VAHID HALILHODZIC IS SACKED AS COACH OF IVORY COAST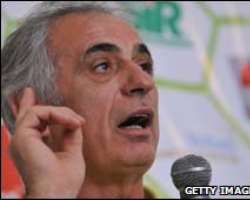 nerPostTitle">VAHID HALILHODZIC IS SACKED AS COACH OF IVORY COAST Written by Prince Sports http://www.nigerianbestforum.com/blog/?author=1 http://www.nigerianbestforum.com/blog/?cat=134 Feb 28, 2010
http://www.nigerianbestforum.com/blog/wp-content/uploads/2010/02/j_47388967_halihodzic226_gtty.jpg Vahid Halilhodzic has reacted angrily to his sacking as Ivory Coat coach
Ousted Ivory Coast coach Vahid Halilhodzic says his sacking was politically motivated.
The Bosnia-born Frenchman's future had been in question after the Elephants were eliminated in the quarter-finals of the Africa Cup of Nations in Angola.
"It's terrible, I'm disgusted. I lose one game in 24 and now I have been sacrificed. It's purely political," he told French newspaper L'Equipe.
Ivory Coast FA president Jacques Anouma confirmed the sacking on Saturday.
Halilhodzic added he had only been informed of his dismissal by fax on Saturday.
Anouma said the successor would be named within 10 days, with Guus Hiddink installed as favourite to take over on a short-term contract before the Dutchman becomes Turkey boss in August, according to Ivorian press reports.
The Ivorians travel to London for a friendly with South Korea on Wednesday and the federation have named a squad but not indicated who will take charge of the team.
At June's World Cup in South Africa later this year, the Ivory Coast have been drawn in a tough Group G with Brazil, Portugal and North Korea.
Halilhodzic becomes the second coach of a World Cup-bound African side to lose his job since the Nations Cup after Nigeria fired Shaibu Amodu earlier this month and named Swede Lars Lagerback as his replacement on Saturday.