FAAN attributes under-utilisation of MAKIA to insecurity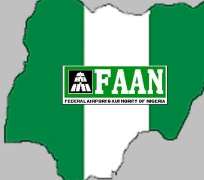 The Federal Airports Authority of Nigeria (FAAN), has attributed the under-utilisation of the Malam Aminu Kano International Airport (MAKIA), Kano, to insecurity in the State.
Mr Yakubu Dati, General Manager, Corporate Communications of FAAN, made this known on Sunday, in a statement issued to aviation correspondents in Lagos.
Dati said that the airport had been affected by insecurity, which has also stifled most socio-economic activities in the state.
According to him, there is no sabotage by FAAN or the Ministry of Aviation to make the airport or its terminal dormant as being alleged by a section of the public.
'We wish to state that MAKIA has been and will continue to be one of the major airports in Nigeria, and it is because of the importance attached to the airport that the Federal Government embarked on rebuilding it.
'If the terminal or the airport is alleged to be dormant, it means that there is low passenger movement.
'It is not the responsibility of FAAN or the Ministry of Aviation to attract passengers to the airport,' he said.
He explained that the viability and utilisation of any airport depended on passenger movement, adding that it would be difficult for economic activities to go on under threat to lives and property.
'We believe that if the state government is working effectively with the Federal Government– which has made efforts to eliminate insurgents in the north– air travellers will start coming to Kano and airlines will feel safe to operate from the airport,' he said.
The General Manager noted that other International airports in the country were thriving because of the peace in those parts of the country.
He said that the Kano airport was ahead of other airports in Nigeria in terms of facility, noting that the Port Harcourt terminal project was yet to be completed.
'For now, the remodelled terminal at the Nnamdi Azikiwe International Airport, Abuja, is designated for domestic operations.
"But both international and domestic services are still emanating from the facility until the international terminal is built,' he added.
Dati said that contrary to the allegation that the conveyor belt at the MAKIA takes two hours to deliver bags, the belt actually takes five minutes only. (NAN)