US drone On Mission To Nigeria and Niger crashes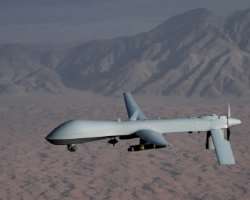 A United States drone on surveillance mission in Mali and parts of Northern Nigeria crashed last Friday in Niger Republic, military sources told Pointblanknews.com
Pointblanknews.com could not ascertain the cause of the crash. A military source disclosed that the drone crashed near Dargol, 160 kilometres from Niamey, capital city of Niger.
Pointblanknews.com gathered that the crashed Unmanned Aerial Vehicle (UAV), said to be a MQ-9 Reaper, was authorized to fly in Nigerien and Malian airspace. Both countries share common boundaries.
A Nigerian Air force (NAF) plane on reconnaissance mission had in early May crashed in the same Dargol. Military sources believed the NAF plane was downed by insurgents opposed to Nigeria's participation in the regional effort to support France's operation in northern Mali.
Two Nigerian Airforce pilots died in the crash.
AFP had in April reported the crash of one Reaper drone in Mali "due to mechanical failure."
The Pentagon had on 27 June told Congress of plans to sell 16 Reaper drones to France for $1.5 billion.
President Barack Obama had in a February 22 letter to Congress, said he had deployed 100 military personnel to Niger.
"On February 20, 2013, the last elements of a deployment of approximately 40 additional U.S. military personnel entered Niger with the consent of the Government of Niger," penned Obama.
"This deployment will provide support for intelligence collection and will also facilitate intelligence sharing with French forces conducting operations in Mali, and with partners in the region.
"I directed this deployment of US forces in furtherance of U.S. national interests, and in pursuant to my constitutional authority to conduct U.S.
foreign relations and as Commander in Chief and Chief Executive," Obama told Congress.
Efforts by Pointblanknews.com to reach the U.S State department spokespersons or the Africom Media office were futile. Email sent to Nicole Dalrymple of the Africom office in Germany was not replied as at the time of going to Press.