HOW ADENUGA EMERGED MOST OUTSTANDING BUSINESS LEADER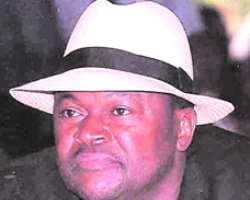 http://www.nigerianbestforum.com/blog/wp-content/uploads/2010/02/Adenuga.jpg Chairman, Dr. Mike Adenuga
Nigerians have voted the Globacom Chairman, Dr. Mike Adenuga Jr. (CON), as the most outstanding business personality in the last 50 years. This Day Newspapers conducted the online poll with Dr. Adenuga polling 4,272 votes to edge out the Chairman, Dangote Group, Alhaji Aliko Dangote who scored 4156. Mr. Paschal Dozie, the founder of Diamond Bank, polled 3,316, Olorogun Michael Ibru got 3073 while the Chairman, First City Monument Bank, and Otunba Subomi Balogun polled 2,801.
Two months ago, Dr. Adenuga also won the coveted Silverbird Man of the Year Award, polling over 75% of the votes cast to edge out other eminent personalities such as the Governor of Central Bank of Nigeria, Mallam Sanusi Lamido, the Minister of State for Petroleum, Odein Ajumogobia, and the Akwa Ibom State Governor, Godswill Akpabio, among others.
The annual award is facilitated by Silverbird Communications, owners of Silverbird TV and Rhythm 93.7 FM. Similarly, five other media organizations: Independent Newspapers, Leadership Newspapers; Compass Newspapers; City People and Ovation International Magazine have also honoured the Globacom Chairman with their Man of the Year Award within the last two months.
Dr. Adenuga is a highly respected entrepreneur and one of the biggest employers of labour in the country. Described by former Ghanaian President, John Kuffour, as Africa's Most Outstanding Business Personality, Dr. Adenuga, through his companies, provides direct employment for thousands of people and indirect employment to hundreds of thousands of others across the world. In the last two decades, he has established a pedigree as a well-focused and prudent manager of men and resources with the ability to successfully transform ideas and dormant businesses to highly viable enterprises.
He has founded and successfully run high-profile companies in the most lucrative sectors of the economy including telecommunications, banking, real estate, oil and gas.
His foray into banking commenced about 20 years ago when he established two banks, Devcom Merchant Bank and Equitorial Trust Bank, both of which were merged to become Equitorial Trust Bank during the consolidation exercise of 2005. The revamping of Conoil Plc has also confirmed Dr. Adenuga as one of the most cerebral, enterprising and pragmatic business managers Africa has ever produced. Indeed, success stories of Conoil Plc's magnitude are few and far in between. As at the time he bought the controlling shares in the company then known as National Oil in 2002, it was heading for extinction. Within months, he turned Conoil Plc to shareholder's delight, setting industry standards, opening up mega stations across the country and declaring huge profits.
On another front, Conoil Producing, the downstream arm of the conglomerate, made history by becoming the first Nigerian company to strike oil in commercial quantity.
His telecom company, Globacom Limited has grown in reputation in Nigeria in the last six years of operation as the people's network, having blazed the trail in Per Second Billing in Nigeria and garnering over 20 million subscribers within the period to become a market leader in the country.
In keeping with its aspirations to avail Africa the possibilities offered by broadband, Globacom has invested in Glo-1 Submarine cable, which will connect Africa to Europe and America. Initially, Glo-1 will have branching units in about 20 north and West African countries. The gigantic state-of-the-art cable which has already landed in Nigeria and Ghana will enable Globacom to have a clear distinction in providing quality services through direct links to various countries across the globe and will also enable it to directly interconnect with several international networks and leading traffic carriers in the world. The cable will facilitate teleconferencing, distance learning, disaster recovery and telemedicine among several other benefits for the African people.