Jonathan Urges Politicians In Rivers To Show Respect For Constitution And Rule Of Law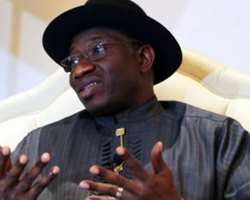 President Goodluck Jonathan has noted with concern the recent untoward political developments in Rivers State and he calls on all those involved in regrettable acts of political violence to show greater respect for the constitution and the rule of law.
President Jonathan urges members of the Rivers State House of Assembly and all other political gladiators in the state to put the interests of the state and the nation above their personal egos and ambitions that seem to have gotten in the way of their expected commitment to uphold the principles of democracy and good governance.
The President calls on all those who were remotely or directly involved in heightening political tension in Rivers State to put an immediate end  to their actions which are capable of plunging Rivers State into public disorder and strive to settle their political differences without further recourse to barbaric acts of violence.
President Jonathan expects all members of the Peoples Democratic Party (PDP) in Rivers State, irrespective of their current affiliations or loyalties, to comport themselves with greater restraint while efforts continue to resolve existing differences and restore internal harmony to the state branch of the party.
The Presidency has also noted with regret the continuing attempts by some individuals and groups to place responsibility for the unpleasant developments in Rivers State on President Jonathan.
We are constrained to state once again that there is absolutely no factual basis for suggestions that some of the politicians involved in the current dispute are acting at the behest of the President.
President Jonathan certainly did not instigate the crisis in the Rivers State House of Assembly and as President of the nation, he will never support any actions that negate his avowed commitment to the rule of law.
The President will also never violate his oath of office to always defend the Nigerian Constitution.