$620,000 Bribe: Again, Lawan, Emenalo's Bid To Stop Trial Fails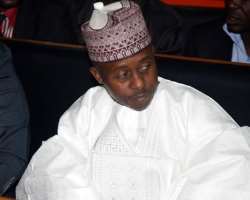 HON. FAROUK LAWAN, FORMER CHAIRMAN, HOUSE OF REPS AD-HOC COMMITTEE ON FUEL SUBSIDY REGIME
SAN FRANCISCO, July 10, (THEWILL) – The bid by the former Chairman, House of Representatives Ad-hoc Committee on Fuel Subsidy Regime, Farouk Lawan and the former Secretary of the committee, Boniface Emenalo, to stop their trial over the alleged $620,000 bribe obtained from a businessman, Mr. Femi Otedola, has failed again.
An Abuja High Court on Wednesday insisted on proceeding with the trial as it turned down the prayer of the accused for a stay of proceedings pending the determination of an appeal they filed against the May 10 ruling of the court.
The court had, on May 10, turned down their request that the seven-count charge brought against them on February 1, be quashed.
The duo are currently being tried for allegedly receiving $620, 000 as bribe from the Chairman, Zenon Oil and Gas, Femi Otedola, in order to exclude the Otedola's companies - Zenon Petroleum and Gas and Synopsis Enterprises Limited - from the list of companies found to have allegedly defrauded the Federal Government of billions of naira.
While dismissing their stay of proceedings application on Wednesday, presiding judge, Justice Mudashiru Oniyangi, who also held that the application, if granted, would occasion delay in the case, ruled that their application was unmeritorious.
The judge, who held that in line with the provision of Section 36(4) of the Constitution, time was of the essence in the trial of criminal case, noted that the appeal was the type that would not negatively affect the interest of parties, whichever way it ended.
This, according to Justice Oniyangi, was because the accused persons had given indication that the appeal would be promptly heard, saying if that was the case, it implied that the appeal would be decided before the trial was concluded.
The judge held that the nature of the case was that in which undue delay could destroy the res (the subject of dispute) and evidence.
"I do not consider that this is a special circumstance on which proceedings in the case could be stayed.
"It is my view that granting a stay will constitute an antithesis to the expeditious hearing of this case. Neither of the party would be adversely affected whichever way the appeal is decided.
"I therefore hold that this is not a proper circumstance where the court can exercise its discretion in favour of the applicants," the judge said.
However, the non-readiness of the prosecution to commence trial stalled the commencement of the trial as the prosecution counsel, Mrs. Ozioma Izuora, surprised all when she requested for a long adjournment, a request that contradicted the prosecution's earlier position for readiness for trial.
Following the request by the prosecution counsel for an adjournment to October 23, the judge promptly adjourned the case in the absence of opposition from the defence lawyers.