Governor T.A. Orji Set To Commision The New Broadcasting House Complex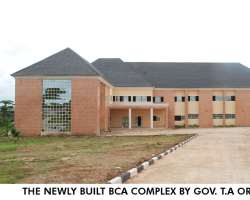 Abia State Governor, Theodore Orji will in matter of weeks will commission a new ultra modern complex for the State Broadcasting Corporation.
This is the first time any administration is building such a befitting structure many decades after the establishment of the station.
This development will help in addressing the issue of lack of offices being experienced by the staff of the radio and TV station and at the same time, accommodate the new modern broadcasting equipment provided by the State Government for BCA.
1--