Uduaghan Orders Release Of Arrested Physically Challenged Persons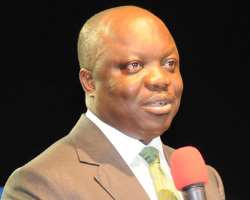 Delta State Governor, Dr. Emmanuel Uduaghan has prevailed on the state police command to set free the 179 physically challenged persons arrested (Monday) for unlawful blockading of the Benin-Asaba Expressway in Asaba.
However, they are to signed an undertaking to henceforth  to be of good behaviour and never to engage in any riotous act that will cause a distruption of the traffic or breach of peace in any part of the state.
The Governor who spoke at the Governor's office Annex Warri when the leaders of the physically challenged persons arrested during the twelve hour protest were brought before him, said it was not acceptable for them or any person to embark on acts that will cause a breach of the peace or distrupt the free flow of traffic.
According to him, 'we cannot continue to allow you people to behave the way you are behaving; you  must signed an undertaking with the police to henceforth be of good behavior. What you people did yesterday (Monday) is certainly not acceptable. You blocked a major economic route of the nation and caused others unnecessary hardship'.
Continuing the Governor said, 'this adminstration has done so much for then physically challenged, we even created a special office to handle your affairs soI  am surprised at your behaviour'.
Dr. Uduaghan told them that they should stop regarding themselves as beggars explaining that their physical condition was not a licence for them not to make a decent living as they must struggle like others rather than  keep waiting for handouts from government and other persons.
His words, 'any one of you that wants to work with government we will work with the person, but what I will not do is to hand money over to you. If you want to learn a skill we will train you and start you off, if you want employment you must pass through the necessary procedure and we will look at it and see what we can do. However, I will not be stampeded'.
Commending the Police for the professional way it handled the matter, Governor Uduaghan appealed that the arrested culprits be given an opportunity to be of good behaviour and directed the police to investigate the source of the money with which they had over thirty buses for the protest.
Commissioner of Police, Mr. Ikechukwu Aduba while briefing the Governor said the group constituted themselves into a nuisance and held up traffic for twelve hours between eleven in the morning and eleven at night.
The commissioner said many people were stranded as a result of the action and that most people were attacked while a woman in labour went through hard times because of the actions of the physically challenged persons.
Mr. Aduba who commended his men for their professional approach in handling the protesters announced that one Hundred and seventy nine of them were arrested The leader of the group one Isaac Obruche apologised for their unruly attitude that brought disrepute to Delta State and promised that henceforth they will be of good behaviour and channel their grievances lawfully and properly.