Chelsea Seeks City Revenge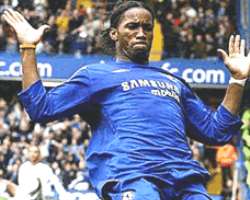 http://www.nigerianbestforum.com/blog/wp-content/uploads/2010/02/Drogba2.gif Didier Drogba
Just back from its Champions League clash against Inter Milan in Italy, Chelsea is set for another thriller at Stamford Bridge against Manchester City, featuring Didier Drogba and Emmanuel Adebayor as leading gladiators.
The high-flying Chelsea targets the full marks to sustain itself at the top of the Premiership table. Which means that it must sink City to revenge the 2-1 loss it suffered at Eastland in the first stanza of the season.
City, who is fifth on the table with 46 points, is targeting a fifth away win of the season. The team is fighting real hard to claim the fourth spot finish being keenly contested by Everton, Liverpool, and Tottenham.
Having defeated Chelsea early in the season, it knows that although its trip to the Bridge is not a tea party, it can grind out something cheery if it plays a game of life.
What would be going for City this afternoon is that it has a playing staff, which can match Chelsea skill-for-skill and man-to-man. Roberto Manchi and his men played out a boring barren draw with Liverpool at the weekend, but that may have been his game plan to take something out of the game. This one at the Bridge might be different. If Carlos Tevez gets the starting shirt, he has an opportunity to raise his goal tally above 13. Adebayor will be looking to hit the double digit.
He has scored nine already.
The duo has a formidable foe in Drogba, who has scored 19 times and is still counting. The eagerness of these lead performers to lift their teams with goals will make today's encounter very explosive.
The war at the Bridge will bring out the best of Pablo Zabeleta and Joleon Lescolt in City's defence. Lots of midfield action will also be seen where Wayne Bridge Barry Gareth, Stephen Ireland, Michael Johnson and even Shaun Wright Philips feature. And may be, Patrick Viera will use this one to prove that he is back to the Premiership to make a point.
However, how far they will go depends on how much chance Chelsea will allow them. The Blues, hungry to haul in its 13th Premiership victory at the Bridge, will not allow this one to slip through its fingers. With the season looking theirs, Ancelotti and his squad will throw everything into the clash to give their faithful something to cheer.