Constitution Amendment: Reps Remove Immunity For President, Vice, Governors and Deputy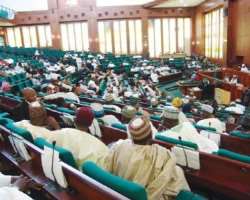 Members of the House of Representatives Thursday unanimously adopted the report of the Ad-hoc Committee on Constitutional Amendment which recommended the removal of immunity of major political office holders in the country, namely President, Vice President, State Governors and Deputy Governors respectively.
The Committee headed by Hon Emeka Ihedioha, laid the report before the House which was considered and adopted.
The report noted that the removal of the immunity clause from prosecution from criminal offences for persons occupying the position of president, vice president, governor and deputy governor was aimed at stemming impunity in governance.
The Committee also altered the Constitution to abrogate State Joint Local Government accounts and empower each Local Government to maintain its own special account to be called "Local Government Council Allocation account" into which shall be paid directly allocations made to the local government by the Federal Government from the Federation Account and from the government of the State.
The Committee received requests for creation of States running into more than thirty-five (35) States. None of the requests submitted to the Committee complied with the procedure for creation of States outlined in section 8 of the Constitution.
Accordingly, the Committee was unable to treat any of these requests. The Committee however recognizes that the existing provision in the Constitution for the creation of new States is unclear and cumbersome.
Accordingly, the Committee has clarified the process.
The Committee altered the Constitution to provide for the transfer of Railways, from the Exclusive legislative to the Concurrent List to further boost devolution of powers. Health, Housing and Electricity was transferred to the concurrent list.
The Committee also altered this section of the Constitution as approved by the Peoples' Public Session removing the powers of the President and governor of the State to modify existing laws.