Governor Uduaghan Orders Arrest Of Two Men Defacing Road Project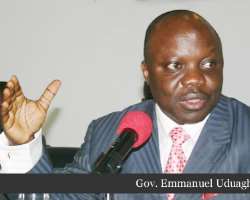 The Delta State Governor, Dr. Emmanuel Uduaghan has ordered the immediate arrest of two men who discharged large quantities of sand on the walkways along the Federal College Road, Asaba.
Governor Uduaghan who gave this order today in Asaba while passing through the road to an official function expressed his shock when he discovered that the men who were constructing a filling station have discharged over ten trips of sharp sand on the walkway and the newly constructed road thus effectively blocking theroad and drains and  causing serious flooding on the road.
Dr. Uduaghan who demanded an explanantion from the men who were also draining waste water from a newly dug storage pit into the drains and road condemned the acts of defacing public projects by members of the public.
He reiterated government's earlier warning that anyone caught trading on the walkways, perverting the beauty of the environment and defacing roads and other government's projects would be arrested and prosecuted.
The Governor condemned the acts of people converting the roads and walkways into other uses and appealed to deltans to see government's projects as their own and protect them from destruction.
He decried the flooding  and the environmental impact on the road caused by the heap of sand on the drains and road and also the  traffic congestion occasioned  by it. He advised deltans to always protect government projects in their areas as they are the immediate beneficiaries of these projects.
Two motor technicians in the area, Messrs. Amaechi Nweke and John Okonkwo who said that they tried to stop the men from dumping the sand on the walkway but were rebuffed opined that their workshops were flooded as a result of the the blockage of the drains by the sand and described the actions of the men as unpatriotic and unhealthy for the beauty of the environment.
The two men arrested are now cooling their heels at the. 'A' Division of the Nigeria Police, Asaba.