Dangote pledges to stabilize cement price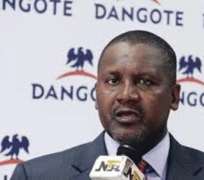 Dangote Cement Plc has pledged to stabilize the price of cement so as to create opportunities for profit for all categories of stakeholders in the building industry, especially block moulders.
The Group Executive Director, Sales and Marketing, Dangote Cement, Mr. Knut Ulvemoen, gave the assurance at a one-day sensitisation workshop in Abuja for block makers in the Federal Capital Territory and its environs, which was organised by the Standards Organisation of Nigeria and sponsored by the firm.
Knut decried the prevalence of substandard sandcrete blocks and explained that some block makers, in an attempt to maximise profits, ended up not using the right blend of cement and sand thus, causing defects in structures.
He explained that because of the sensitive nature of the construction and building industry, inappropriate mix of all the materials would have negative effects on structures built with them, noting that this was the major cause of building collapse in the country.
According to him, Dangote Cement does not compromise its product quality and will, therefore, support all relevant agencies to ensure protection from poor quality sandcrete, adding that the company had highest quality anywhere in the world.
Knut advised the block makers not to succumb to the urge to reduce the quantity of cement in their mix for blocks with the hope of saving more money, pointing out that whoever bought poor quality blocks would not patronise the makers at other times.
The Director-General, SON, Dr. Joseph Odumodu, who was represented by the Regional Coordinator of the organisation, Mr. Nelson Adebiyi, said the Federal Government's transformation agenda and SON's policy of zero tolerance for substandard products underlined the need to sensitise block moulders to operate in conformity with the national standard.
He stated that the benchmark for fair competitiveness was standard, which takes into account customers' satisfaction.