Laide Bakare May Go To Jail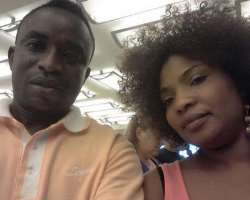 The last may not have been heard in the ongoing war between Nollywood popular actress, Laide Bakare and her estranged husband, Olumide Okunfulire. This is because US-based businessman has vowed to slug it out with the delectable actress over the paternity of the child she claimed to have bore for her new hubby, Tunde Oriowo.
The Ondo State-born dude has reportedly told his lawyers to institute a lawsuit against Laide. Olumighty, as Okunfulire is fondly called by friends, allegedly said that Laide will have to answer if truly she got court judgement, which dissolved their marriage before she got married to Oriowo, her new husband.
Olumide maintained that Laide's new baby boy belongs to him, adding that she became pregnant in his house. He also claimed that the actress registered at the US hospital, where she eventually gave birth, with his name and Green Card.
With the way things are going, Laide might be charged for bigamy and if found guilty by the court, she risks jail term.
Industry sources told First Weekly that Okunfulire may drop charges against Laide if the actress realises her mistakes and beg for forgiveness.
"I can tell you that Olumide (Okunfulire) is only trying to shake Laide. He just wants to make life unbearable for her, Laide is aware of this, which is why she has not responded to the 'noise' Olumide has been making since the news of her child birth hit town," a source informed us.
Meanwhile, those in the camp of Laide have disclosed that Tunde is the real father of the baby. They claimed that Laide and Tunde had been an item for sometime before they decided to solemnise the relationship with a secret wedding and that she was actually pregnant for him before then. Pictures were sent to us to back up the claim. The actress is still in the USA with her baby and new husband as at press time.
Culled from First Weekly Magazine
© 2013 Nollywoodgists.com
Click the link below to go to...
The Good The Bad And The Ugly Life Of Laide Bakare
Liz Da Silva Pregnant For 3 Men? May Require DNA To Know Child's Paternity
POPULAR YORUBA ACTRESS LIZ DA SILVA PREGNANT OUT OF WEDLOCK
Nollywood Actress, Liz Dasilva, Delivers Baby Boy