ENTERPRISE REALITY CONCEPT & PHCCIMA COLLABORATE ON ENTREPRENEURIAL REALITY TV SHOW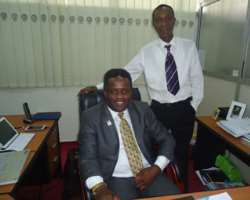 The Enterprise Reality Concept; a business and human capital development organization based in the city of Port Harcourt in partnership with Port Harcourt Chambers Of Commerce, Industry, Mines and Agriculture (PHCCIMA) has concluded plans to kick start an Entrepreneurial reality TV show tagged THE ENTERPRISE.
Speaking to newsmen the Co- director of THE ENTERPRISE, Mr. Justice G. Kalio said the entrepreneurial reality TV show is a youth entrepreneurial training, empowerment and business idea reality TV series targeting young and enterprising people in Nigeria. According to him, THE ENTERPRISE is an annual event aimed at discovering Nigeria's future business leaders to supporting and challenging them to build capacities by helping them to setup and run businesses that will positively improve the socio-economic status of Nigeria.
In his remark the PHCCIMA president, Engr. Emeka Unachukwu underscored the importance of the entrepreneurial TV reality show stating that PHCCIMA is always open to offer support to any organization that seek to leverage on in search of achieving set goals. He commended the initiative and assured that everything will be put in place to ensure that the project comes out a huge success.
THE ENTERPRISE is scheduled to run regionally, but will be aired nationally. The first season is to take off from 2013 in Niger Delta, and will be hosted in Port Harcourt city. Subsequently, other cities in other regions in Nigeria will follow.
Each Season of THE ENTERPRISE will run for about seven months, involving Adverts, Registration, Audition, Capacity Building, Airing and Closing Ceremony. The Project will accept application from Nigerians. Each Season will involve five teams. Each team will consist of three individuals selected from series of auditions. The teams will undergo capacity building in leadership and core business ideology, marketing strategy, customer service and financial control. At the end of the capacity building each team will then present group business idea, consequently; subjecting it to a test to prove its viability through a contest. Assessment of each team will be based on viewers' votes, a panel of judges and a set of business angels. A ceremony will be organized at the end of the Season to give awards and prizes to deserving participants and partners. To sustain the Project, at the end of each Season, the Five Teams will be empowered, mentored and exposed through internships for a period of at least one year in order to strengthen their business management techniques.