Turkish Police Arrest Dozens, PM Erdogan Defends Security Forces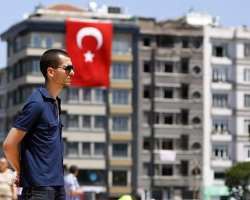 Police raided addresses across Turkey on Tuesday and detained dozens of people in an operation linked to three weeks of often violent protests against Prime Minister Tayyip Erdogan.
Overnight in Ankara, riot police used tear gas and water cannon to disperse hundreds of protesters who had gathered in and around the government quarter of Kizilay.
Interior Minister Muammer Guler said 62 people had been detained in Turkey's biggest city Istanbul and 23 in the capital Ankara. State broadcaster TRT also said a further 13 had been held in Eskisehir.
A police source confirmed the operation and said: "For now, only provocateurs will be taken for questioning."
Protests have frequently turned into fierce clashes between police firing teargas and water cannon and masked demonstrators throwing bottles and other missiles, images that have dented Turkey's reputation for stability in a volatile Middle East.
Western countries have expressed concern about police treatment of protests against Erdogan, whose authority rests on three successive election victories, the last achieved with 50 percent support.
Critics accuse him of disregarding the half of the population who did not vote for him, some of whom accuse him of conniving to subvert the secular constitution and create an order based on religious principles - something Erdogan denies.
Erdogan has struck a defiant tone throughout the unrest, which poses the greatest public challenge yet to a 10-year rule marked by economic boom and a concerted drive to extend economic and diplomatic influence beyond Turkish frontiers.
"In the face of a comprehensive and systematic movement of violence, the police displayed an unprecedented democratic stance and successfully passed the test of democracy," he told members of his ruling AK Party in parliament.
"The police have been represented as using violence. Who used violence? All of the terrorists, the anarchists, the rioters," he said in a speech punctuated by loud applause and cheers.
Officials have sought to distinguish between those they considered legitimate protesters and others described variously as "riff-raff" and "terrorists".
SMALL BEGINNINGS
The unrest began as a small action by environmentalists opposed to government plans to build replica Ottoman-era barracks on Gezi Park adjoining Taksim Park, one of the few green spaces in the teeming city of Istanbul.
But it has broadened to a protest movement against what Erdogan's critics say is his domineering style and tendency to meddle in people's individual lives - a tendency some opponents say is driven by Erdogan's religious beliefs.
The protests unnerved markets, with the lira currency hitting near-two-year lows last week and 10-year bond yields climbing above eight percent, but markets have since settled close to levels before demonstrations began.
The unrest has eased off since Istanbul saw some of the worst clashes so far over the weekend, following the pattern of the last three weeks when violence flared up at the weekends before calming during the week.
On Monday, a man staged a silent vigil on Taksim Square in a show of support for the protesters that has lit up social media in Turkey and inspired copy-cat demonstrations by hundreds of others is Istanbul, Ankara and beyond.
The unrest has left four people dead overall, including one policeman, and about 7,500 injured, according to the Turkish Medical Association.
On Tuesday, Cem Oezdemir, co-chair of Germany's opposition Greens party who is of Turkish origin, joined the international chorus of condemnation of Erdogan's handling of the unrest.
"Erdogan will no longer be able to travel the world presenting himself as a reformer and a modernizer," he said in an interview published in Germany's Die Welt newspaper. "He won't be able to shake off the images of brutal violence."
U.N. High Commissioner for Human Rights Navi Pillay, in her first remarks on the clashes, called for officials and security forces using excessive force to be punished.
"It is important that the authorities recognize that the initial extremely heavy-handed response to the protests, which resulted in many injuries, is still a major part of the problem," Pillay said in a statement.
Erdogan, who created his AK Party in 2001 from a mix of centrists and reformers as well as conservative religious elements, pursued radical social reforms in his first years in office broadening ethnic Kurdish rights and curbing the power of an army that had toppled four governments in four decades.
The troubles threaten to impede efforts to end a three-decades-old Kurdish rebellion that has cost 40,000 lives.
Opponents argue that recent years have seen him returning to his more conservative roots, though he remains virtually unchallenged on the Turkish political stage as a leader. Neither on the streets nor in parliament have rivals emerged.
REUTERS