Nigerian President Umaru Yar'Adua 'returns home'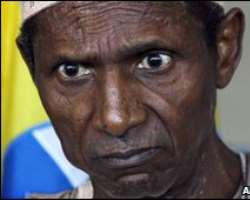 President Yar'Adua has been absent from Nigeria since November
Nigerian President Umaru Yar'Adua has returned home after three months' treatment in Saudi Arabia, officials say, but his condition is unknown.
A plane landed from Jeddah at the presidential wing of Abuja airport in the middle of the night, where an ambulance was waiting on the tarmac.
Earlier this month, Vice-President Goodluck Jonathan became acting leader as fears mounted of a power vacuum.
Mr Yar'Adua had been suffering from a heart condition and kidney problems.
The BBC's Ahmed Idris says two planes arrived amid tight security at Nnamdi Azikiwe International Airport in Abuja at about 0200 local time (0100 GMT).
Although there has been no official confirmation of Mr Yar'Adua's return, two cabinet ministers told our correspondent the president was on board one of the jets.
And a government source told Reuters news agency: "[Mr Yar'Adua] just landed at Abuja airport on a Saudi plane escorted by the presidential plane. He is on his way to the [presidential] villa now."
Our correspondent says everyone except presidency officials was kept out of the airport.
He followed the official convoy the 40km (25 miles) into central Abuja and says there was a military presence every 300m on the route, which became more stringent towards the city centre.
Acting President Jonathan has adopted the mantle of power

The 58-year-old leader's state of health is unclear, and it is not known whether he wants to return to his post.

Mr Yar'Adua was flown out to Jeddah after falling ill last November to be treated for pericarditis, an inflammation of the membrane covering and protecting the heart.

He has not been seen in public since then and there has been no official report on his health condition.

Our correspondent says the rest of Wednesday will be crucial, as Nigerians wait to see whether the president himself turns up to a scheduled cabinet meeting.

If he does not appear, questions will be asked as to whether Mr Yar'Adua is fit enough to resume his duties.

A delegation of Nigerian ministers had travelled to Saudi Arabia on Monday for an update on Mr Yar'Adua's health.

Acting President Jonathan has in his absence been reshuffling ministers, pledging to tackle power shortages and forging ahead with an amnesty for militants in the oil-rich Niger Delta.

Some politicians have said he could win support to run for president in elections due by April next year.