Oil Majors Warn Nigeria On Planned Industry Reforms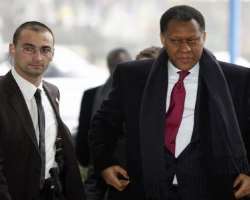 PHOTO: NIGERIA'S MINISTER OF STATE FOR PETROLEUM MR. ODEIN AJUMOGOBIA.
Nigeria's proposed oil industry reforms could drive away billions in investment, slow development of deep water reserves, and help Angola eclipse it as Africa's biggest oil producer, oil majors said on Tuesday.
Industry executives pressed their point at an annual industry forum in Abuja two weeks after acting President Goodluck Jonathan assumed executive powers in the absence of the OPEC member's ailing leader.
Under the current version of the proposed Petroleum Industry Bill (PIB), the government would be allowed to renegotiate old contracts, impose higher costs on oil companies and retake acreage that firms have yet to explore.
Jonathan on Monday urged parliament to pass the bill quickly, saying it was vital for Nigeria's national interest and that it was the country's "unreserved determination" to implement the reforms.
The legislation has been stalled by the dispute between government and the international firms, which already complain of funding difficulties and have suffered years of unrest in the oil-producing Niger Delta region.
"The PIB threatens to make a bad situation worse," Royal Dutch Shell's Executive Vice President for sub-Saharan Africa, Ann Pickard, told the conference.
"If passed in the form currently proposed its mistakes will take years to correct," she said, adding the industry believed harsh terms for deepwater projects could drive as much as $50 billion in investment elsewhere.
Nigeria says it wants Africa's biggest oil and gas industry to better serve the interests of its 140 million people, by addressing power shortages, ending budget-debilitating fuel subsidies, and increasing the involvement of local firms.
Minister of State for Petroleum Odein Ajumogobia said the proposed legislation had been drafted in full consultation with industry and that 56 changes had been made to the bill in response to comments from foreign oil firms alone.
NIGERIA CONFIDENT
Foreign oil firms have long voiced concern about the legislation but there is a new sense of urgency with Jonathan keen for the bill to be passed as quickly as possible.
Pickard and other executives said they believed the bill, being worked on by both chambers of parliament whose versions will then be harmonised, would be passed this year but foreign firms could still influence the outcome.
The head of state-run NNPC, Mohammed Barkindo, said he believed the process, which led to the reform bill, had been fair and open to all, including the multinationals.
"All the companies are making representations to the National Assembly ... it is something that is in the process of being ironed out," said NNPC legal adviser Yinka Omorogbe.
"Legislators are very concerned with ensuring that there are still investment inflows but they do not want investment inflows at the expense of the country," she said.
The bill aims to break up NNPC, long hampered by funding shortfalls, into profit-driven units able to tap international capital markets, and it is also touted by government as a solution to chronic domestic power shortages.
Prospects for getting the bill through parliament have improved since Jonathan assumed executive powers this month to fill a paralysing vacuum in government because of the hospitalisation abroad of President Umaru Yar'Adua.
The international firms say that if passed in its current form, it would make it difficult to develop new reserves, particularly at offshore operations seen as the foundation of Nigeria's future production growth.
"Current legislation being discussed will drastically slow down deepwater growth," the head of U.S. energy firm Chevron in Nigeria told the conference.
"Dialogue is needed to ensure that the government's well-thought out aspirations are achieved by the Petroleum Industry Bill and not inadvertently derailed," Chevron Nigeria Ltd Managing Director Andrew Fawthrop said.
Developing offshore reserves is especially important for Nigeria because attacks in the Niger Delta in recent years have prevented it pumping much above two-thirds of its 3 million barrels per day (bpd) installed capacity.
Although Jonathan is from the delta and has made peace there a priority, militants have threatened to resume attacks unless the government can get an amnesty programme back on track. Long term, the risk of instability will remain.
Shell's Pickard said she expected Nigerian offshore oil production to increase to about 1.5 million bpd by 2015, but that by 2020, Angola's offshore oil production would be more than double that of Nigeria.
The industry invested $8 billion in Angolan deepwater projects in 2009, double that invested in Nigeria, she said.
The two states rival each other as Africa's biggest oil producer.
|
Article source