Atiku Extols Bayero's Exemplary Character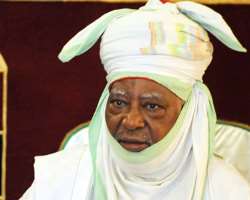 EMIR OF KANO, ALHAJI ADO BAYERO
SAN FRANCISCO, June 13, (THEWILL) – Former Vice President Atiku Abubakar has urged Nigerian leaders to borrow a leaf from the exemplary virtues of the Emir of Kano, Alhaji Ado Bayero, who is celebrating his 83rd birthday and 50th coronation anniversary on Friday June 14, 2013.
In a tribute to Ado Bayero, which was released by his media office in Abuja, the former Vice President described the Emir of Kano as "a living symbol of impregnable integrity and awesome common touch."
He said since his coronation in 1963, the Emir of Kano has kept his integrity intact and that selfless service to his people has been the outstanding features of his leadership.
According to Atiku, Ado Bayero has also made his mark as a promoter of peace, unity, tolerance and peaceful coexistence.
The former Vice President recalled late Ikemba of Nnewi, Dim Odumegu Ojukwu, insisted before his death that the Emir of Kano should be allowed to see his corpse before burial.
Atiku said Ojukwu's request illustrated the extent the Emir of Kano is revered as a man of peace and promoter of unity.
The former Vice President noted that during Bayero's eventful reign, the people of Kano have witnessed tremendous peace, prosperity and progress.
In Atiku's words, "presiding over a cosmopolitan state like Kano demands a leader with a large heart and sincere commitment to peace and unity," adding "Ado Bayero has skilfully discharged this awesome responsibility."
On Bayero's 83rd birthday, which coincides with his 50th coronation anniversary, Atiku prayed God to continue to preserve and bless Bayero for humanity.