Wall Street Pares Losses After Falling On Stimulus Worries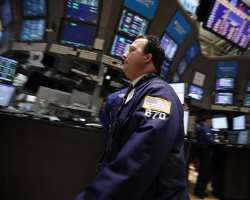 Stocks fell on Tuesday following the Bank of Japan's decision to hold monetary policy steady, but indexes were well off lows as investors took earlier dips in the market as a buying opportunity.
The Dow Jones industrial average erased nearly all its losses to trade flat at midday, supported by gains in Pfizer Inc (PFE.N) and Unitedhealth Group (UNH.N), both up more than 0.6 percent.
Financial .SPSY and materials .SPLRCM groups led the way down, falling nearly 1 percent each. The utilities sector .SPLRCU was flat, faring relatively better.
The decision by the BOJ roiled markets across asset classes. U.S. Treasury yields hit fresh 14-month highs, the yen rose sharply and equities dropped globally.
The reaction highlighted worries about what will happen when the global stimulus programs eventually go away. Investors have become more nervous in recent weeks over when the U.S. Federal Reserve may slow its measures, which have been a significant driver of the stock market rally.
"I think starting to take central bank stimulus off the table, or at least saying we're at the limit, will create volatility in the market, but it's a good thing because some economic statistics are saying we're getting back to normal," said Doug Cote, chief market strategist at ING U.S. Investment Management in New York.
The Dow Jones industrial average .DJI was down 4.41 points, or 0.03 percent, at 15,234.18. The Standard & Poor's 500 Index .SPX was down 4.26 points, or 0.26 percent, at 1,638.55. The Nasdaq Composite Index .IXIC was down 11.42 points, or 0.33 percent, at 3,462.35.
All three major indexes had fallen more than 1 percent earlier.
"I think it's all keyed off of Japan right now. We were getting a lot of the price action happening overnight and people during the day are scooping up the opportunity," said Bill McNeil, managing director of trading at HTG Capital Partners in Chicago.
"I think there's still more room on the downside."
The Bank of Japan in April announced a $1.4 trillion stimulus program, and while the central bank on Tuesday left the door open to taking fresh steps to calm markets if borrowing costs spike again, it did not appear to assuage investors.
The S&P 500 is up more than 15 percent since the start of the year, but markets have been bumpier since comments from Fed Chairman Ben Bernanke last month sparked uncertainty over the central bank's timeline for slowing its $85 billion a month bond purchase program.
Some investors are preparing for the Fed to slow the pace of bond-buying by the end of the year.
Among individual companies, shares of Lululemon Athletica (LULU.O) (LLL.TO) slumped after the company's chief executive said she will step down. The stock was down more than 17 percent at $68.05.
SoftBank Corp (9984.T) said it agreed with Sprint Nextel Corp (S.N) to raise its offer for the U.S. wireless carrier to $21.6 billion from $20.1 billion. Sprint was up 2.5 percent at $7.36.
Dole Food Company Inc (DOLE.N) surged more than 21 percent to $12.37 after the company received an unsolicited buyout offer from its chief executive.
Data showed U.S. wholesale inventories rose modestly in April, the latest suggestion that restocking will not be much of a boost to economic growth in the second quarter. Market reaction was muted.