'The Presidency Is More Important Than The Person Who Occupies It'- Rice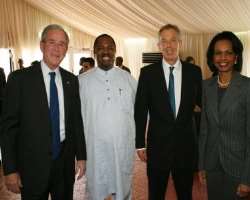 PHOTO: L-R: GEORGE BUSH, NDUKA OBAIGBENA, TONY BLAIR AND CONSOLEEZZA RICE. Photo: THISDAY.
Abuja Feb 21, (THEWILL) - Former US Secretary of State, Dr. Condoleezza Rice on Sunday night said 'The Presidency is more important than the person who occupies it.'
Rice made the statement while responding to questions on Nigerian ailing President Umaru Yar'Adua and Nigeria, at the 15th Awards Dinner of the newspaper moderated by host and THISDAY publisher, Nduka Obaigbena.
"One thing that is important… I pray for your president's recovery. I met him, I saw him to be somebody who had a real vision for Nigeria. But ultimately, the presidency is more important than the person who occupies it. In a democracy, there is the office of the presidency and the person elected to that office is the servant of the people and he is accountable to the people…
"I am certain that Nigerians would find within their democratic institutions a way to deal with the current crisis that you have; but with that said, my prayers are with your President and my prayers are with your Acting President with whom I met today (Sunday) and with all of your other leaders who must lead Nigeria through this critical time."
Speaking on Nigeria's political risk, Rice said, "Well, I think that every country has some degree of political risk. Obviously, Nigeria has had its challenges in the last fifty years in terms of political stability, but I think that the world is watching, tracking the coming election very closely because Nigeria is now a democracy and Nigerians, I believe, would demand that this democracy functions in a transparent way, that the elections are transparent and that would send a strong signal to the international community to the international market, to the international investors that issues of political risks as we have tended to think about them with Nigeria are passing away."
On investors expectations, she said, "They want stable contracts; they want rule of law; they want to know that the political system would be calm that there would not be upheavals and they want fair rules of the game in the economy and those are efforts that I think Nigerians have been working towards. You had good leadership. Your former Finance Minister (Dr. Ngozi Okonjo-Iweala) was a terrific leader on these issues and I think people are going to be looking at these next elections to have affirmation and confirmation that the Nigeria democracy is on sound footing."
Those at the event included businessmen, politicians and members of the diplomatic corps.