PDP Slams ACN, Accuses Opposition Party Of 'Backing' Terrorists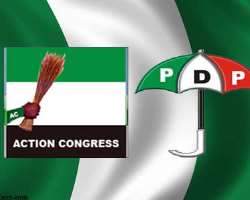 SAN FRANCISCO, June 10, (THEWILL) – The ruling Peoples Democratic Party (PDP) has hit back at the Action Congress of Nigeria (ACN), saying the opposition party should come out in the open and declare its support for insurgents.

It would be recalled that ACN recently condemned the presidential order proscribing Boko Haram and Ansaru sects, describing it as a way of gagging the press.

But PDP, in its reaction, accused ACN of using the press as subterfuge to hide its support for the insurgents and thereby whittle the Federal Government's efforts to fight terrorism in the country, saying the condemnation of the ban on the activities of the insurgents, was despicable and a clear indication of how far the opposition party can go to distort facts to support violence and cause disaffection among Nigerians.

In a statement issued by its National Publicity Secretary, Chief Olisa Metuh, on Monday, the ruling party said contrary to ACN's claim, no part of the presidential order proscribing terrorists groups, directly or indirectly violated any provision of the constitution or impugned on the freedom of the press in the country.
"Our attention has been drawn to a statement sponsored by opposition Action Congress of Nigeria (ACN) in which, in its usual homage to falsehood, deceit and distortion of facts, tried to suggest that the recent order by President Goodluck Jonathan proscribing groups engaged in acts of terrorism violates the constitution and aimed at stifling the press.
"This deliberate distortion of facts clearly betrays ACN's support for such groups as well as the heinous attempt to whittle efforts by the Federal Government and well-meaning Nigerians to end insurgency in the country.
"For the avoidance of doubt, no section of the order stifled the press; violated or seeks to violate any provision of the constitution. Instead the order reinforced the provisions of the constitution guaranteeing the security and welfare of all Nigerians.
"Section 5 (1), of the order which the ACN is kicking against prescribes a term of imprisonment of not less than 20 years ''for any person who knowingly, in any manner, directly or indirectly, solicits or renders support for the commission of an act of terrorism or to a terrorist group ", the statement said.
According to PDP, "The ACN is feverish because the order defined "support" to include ''incitement to commit a terrorist act through the internet, or any electronic means or through the use of printed materials or through the dissemination of terrorist information.
"By all indications, it is clear that neither this section nor any other section of the order for that matter, infringed on the rights of Nigerians and the freedom of the media as guaranteed by the constitution. Rather the section clearly seeks to stop incitements to commit a terrorist acts.
"In trying to distort the facts, the ACN sought to weaken the fight against insurgency, but ended up betraying its support for acts of terrorism and Nigerians have taken note."
The ruling party said it is solidly behind President Goodluck Jonathan in his untiring efforts to ensure an end to acts of terrorism in the country just as it commended the President for the order which it described as a welcome development, adding "Those who have nothing to hide need not be
afraid."