Two Men Claim Paternity Of Laide Bakare's New Baby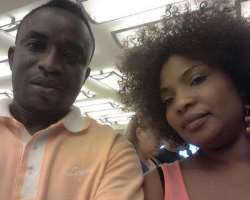 Few days ago, popular sultry actress, Laide Bakare put to bed in America. The news of her child delivery shocked many of her fans, who were surprised about the news. The reason was because it was only less than a month she announced her marriage crash to ex-husband, Olumide Okunfulire that she gave birth to her new hubby.
Worried by the development, the ex-husband has reacted to the news and has claimed that he is the father of the child Laide is claiming is for Tunde Oriowo. Nollywoodgists.com
Olumide said, "I heard that my wife delivered a baby boy barely two months after she made a release that we were divorced, and she's saying that the baby belongs to one Mr. Tunde Oriowo.
"That's a lie, wicked lie. I'm the biological father. I have pictures to show that we were always together, but she deliberately kept the pregnancy out of my knowledge."
He further stated that he is ready to prove his case through a DNA test. Olumide also challenged Laide to submit herself for the DNA test in order to determine the paternity of the new child.
Click the link below to go to...
The Good The Bad And The Ugly Life Of Laide Bakare