Prince Tonye PRINCEWILL FELICITATES WITH MUSLIMS ON EID EL FITRI AND Enjoins them TO continue to promote a culture of peace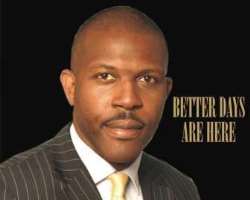 The Rivers State AC leader Prince Tonye Princewill
As Muslims around the world celebrate the end of the Ramadan fast- Eid el Fitri- this year, the Rivers State AC leader Prince Tonye Princewill, shared the joy and rejoicing of this period in a goodwill message to Muslims in the state. He felicitated with them on the successful completion of the period of fasting with their counterparts the world over. Remarking that the Eid el Fitri celebrations marked one of the pillars of Islam and the end of the period in which they fulfilled a specific religious duty in order to come closer to the Most High, he expressed joy that no untoward incident was recorded during its duration.
He assured them of continued support from the people and government of the State, while also using the opportunity to commend them for their contribution and commitment to the economic, social and spiritual growth of the State. He enjoined them to continue to promote a culture of peace, which they hitherto have been known for.
He said that in the spirit of peace he was hopeful that by means of encounters and exchanges, Christians and Muslims would work together in mutual respect for peace and for a better future for the state, providing a worthy example of an enabling environment for the young to follow and imitate. This he said would lead to a renewed confidence in a society that is still emerging from a legacy of its checkered Political past. As we desire to building a new Rivers State where transparency, good governance, delivery of democratic dividends, rule of law, portable water, elimination and eradication of riverine and upland dichotomy, good roads and improved infrastructure thrives, the support and encouragement of our Muslim brethren to achieve all these that will better the lots of our people need not be overemphasised so let us all team-up and build the Rivers State of our dram, the Prince enthused.
Princewill concluded his good will message by commending the Rivers State Government under the distinguished leadership of Rt. Hon. Rotimi Chibuike Amaechi for encouraging and sponsoring thousands of Muslims to embark upon the major Islamic pillar of Annual Holy Pilgrimage to Mecca.

He prays the Muslims not to relent in praying for our Leaders both at Local, State and Federal Levels that God will use them as tools to turn around the economic woes bestowed on our people by inept leadership, corrupt and visionless leadership that has become the lot of our country these past ten years. As you celebrate Eid El Fitr, do bear in mind that the entire Rivers State AC members rejoice and celebrate with you at this great event. May Allah grant you all your heart desires.

Chief Eze Chukwuemeka Eze,
Publicity Secretary, Rivers State AC


Nigeria / Ghana / Africa / Modernghana.com