FAILED MISSION, REPS RETURN WITHOUT SEEING YAR'ADUA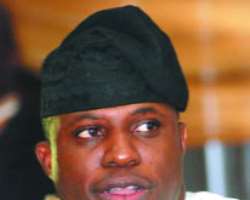 http://www.nigerianbestforum.com/blog/wp-content/uploads/2010/02/bankole.jpg Bankole
House of Representatives members who went to the Kingdom of Saudi Arabia to see ailing President Umaru Yar'Adua returned to Nigeria yesterday evening without accomplishing their mission.
The team led by Hon Baba Agaie arrived the Murtala Muhammed International Airport, Lagos, aboard Emirates airline about 5.30pm.
They have since dispersed to their various constituencies and would return to Abuja on Monday to write the report of their futile trip.
The House of Representatives had at the peak of the power vacuum in the country raised a six-man team to visit Saudi Arabia to deliver a goodwill message to the sick Nigerian leader. The team delayed for close to three weeks before they eventually left the country.
However, after staying for about five days in an hotel in the oil-rich country, they returned to the country in frustration.
Sources close to the lawmakers said the first lady, Hajia Turai Yar'Adua, denied the lawmakers access to the President, claiming it is beyond her powers to grant them access to her husband.
According to one of the lawmakers, 'Turai said it is only the Saudi monarch that can grant us permission to see the President. She said the section of the hospital where the President is being held requires express permission from the monarch.'
Another source however added: 'Former President Olusegun Obasanjo also had a harrowing time trying to see Yar'Adua. He had to call former USA president, Bill Clinton who called President Barrack Obama who then called the Saudi king before he could be granted access to see Yar'Adua.' first lady, Hajia Turai, Yar'Adua.