PDP Burutu Suspends Orubebe Over Alleged Misconduct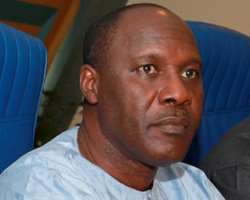 MINISTER OF NIGER DELTA AFFAIRS, ELDER GODSDAY ORUBEBE
SAN FRANCISCO, June 04, (THEWILL) – The Burutu Local Government Chapter of the Peoples Democratic Party (PDP) has suspended the controversial Minister of Niger Delta Affairs, Elder Godsday Orubebe, and nine others over allegations of misconduct capable of breeding hatred and anti-party activities.

A statement signed by the Chairman of the PDP, Burutu LGA, Delta State, Pastor Ogeibiri, the Secretary of the PDP, and three others, after a meeting at the council headquarters of the party on Tuesday, said the decision to suspend Orubebe and his cohorts followed a petition received from concerned party men over their activities.

"After a hearing, preliminary to Section 21.4 of the constitution as amended, and by the virtue of the powers conferred on us, the working committee of the party via Section 21.4 of the same constitution, hereby place Elder Godsday Orubebe and nine cohorts on suspension.

"The suspension was triggered by series of allegations of misconduct likely to cause disrepute, hatred, contempt, anti-party activities. Orubebe and the affected nine others are hereby referred to the PDP disciplinary committee in Burutu Local Government for further investigations," the statement said in part.

Orubebe, who a few weeks ago openly indicated his interest to contest in the 2015 Governorship election in Delta state, is one of the Ministers in President Goodluck Jonathan's cabinet with a very dismal record.

His Ministry has been unable to deliver the much-anticipated East-West federal highway despite the billions of naira voted for the project. The Minister is speculated to be building a huge war chest for his gubernatorial campaign with the funds meant for projects in the Ministry.

Orubebe and his political godfather, Chief Edwin Clark are presently at war over political control of their constituency and other issues.