Senate Rejects Igbuzor As PSC Member, Okays Okiro As Chair, Five Others As Members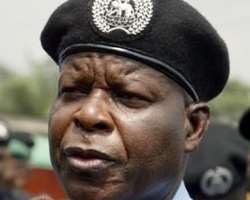 FORMER INSPECTOR GENERAL OF POLICE, MIKE OKIRO
ABUJA, June 04, (THEWILL) –The Senate on Tuesday unanimously turned down President Goodluck Jonathan's nomination of human rights activist and policy/development analyst, Dr. Otive Igbuzor, as a board member, Police Service Commission (PSC).
The Senators however confirmed Jonathan's nomination of former Inspector General of Police, Mike Okiro, as the PSC Chairman with five others as board members.
The confirmed PSC board members include: Mr Yakubu Mohammed, DIG (rtd), Katsina State; Hon. Justice Olufunke Adeyeye, Justice of Supreme Court (rtd), Osun State; Aisha Larai Tukur, Taraba State; Ms. Comfort Obi, Imo State; Chief Torngee Gem Toranyiin, Benue State.
Okiro is set to replace the immediate past chairman, Parry Osayande, who bowed out after a two-term tenure.
Attempts by the Senate President, David Mark, to lobby the Senators to allow Igbuzor's nomination failed as lawmakers rejected his nomination with a resounding "nay" when the nomination was put to a voice vote three times.
Mark stated that whatever reasons lawmakers had for the rejection, if the President Jonathan resubmits Igbuzor's name and the nomination gets favourable reviews, it may be accepted.
According to the Senate President, the police ranks among one of the major problems of Nigeria. He faulted non-inclusion the youth in the membership of the PSC.
"This is an important commission because the Police is one of the major problems of this country, we need the police of our dreams, to defend, and a well equipped police force to do their work very well. Most of us have not have good encounter with the police and I urge Okiro to make us proud and make some notable improvements to the police force, " Mark said.
Igbuzor is the Executive Director of the African Centre for Leadership, Strategy & Development (Centre LSD). He is the former International Head of Campaigns of ActionAid International and Country Director of ActionAid Nigeria.