Merkel Promises Cash To German Flood Victims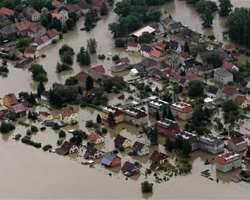 Chancellor Angela Merkel promised 100 million euros to victims of Germany's worst flood in a decade on Tuesday as she toured areas devastated by the deluge which has claimed 12 lives across central Europe.
Swathes of suburban Prague were submerged but metal barriers along the Vltava river shielded the historic center as the high water shifted north to eastern Germany. In the German state of Saxony, about 10,000 people were forced from their homes, and thousands more were evacuated in Bavaria.
The 12 deaths have occurred in the Czech Republic, Austria, Poland and Germany since the weekend.
Forecasters said receding rains would help water levels to drop across the Czech Republic, but that parts of Slovakia and Hungary, as well as Germany, would be affected in coming days.
Conservative Merkel, who faces an election in September and hopes to win a third term, was keen to show she was helping those affected as she visited the Bavarian city of Passau, where soldiers had been piling sandbags and clearing mud.
"Even if the water level is slowly retreating (in Passau), the effects will be felt for a long time," she told reporters gathered around her on a street.
"Therefore 100 million euros of emergency aid is available from the state (of Bavaria) and the federal government. We are splitting it 50:50."
"Now it is a matter of getting the aid quickly to people."
Meteorologists predicted the worst might be over for cities such as Passau but warned of flooding in the historic city of Dresden and nearby Meissen, both devastated when similar floods swept across central Europe in 2002.
In those floods a decade ago, 17 people were killed in the Czech Republic, and damage estimated at 20 billion euros ($26 billion) was inflicted.
NO POWER
Merkel's tour is reminiscent of 2002 when then-Social Democrat (SPD) chancellor Gerhard Schroeder donned wellington boots and rushed to flood-hit areas only a few weeks before an election which he was at risk of losing.
His decisive crisis management gave Schroeder, a strong campaigner, a boost in the polls which, along with his resistance to the Iraq war, helped him win a second term.
Merkel may have left her boots at home, opting instead for sturdy walking shoes and a black rain jacket, and is already riding high in the polls - but her political senses have kicked in, said commentators.
"Now the chancellor is travelling to the flooded areas as a gesture of sympathy," wrote the center-right Die Welt daily, adding she would be measured against the likes of Schroeder.
"But where there is a catastrophe, symbolic appearances and the cynicism of observers begin," it said.
Those in affected areas had less political concerns. "We just want things to get back to normal and want to be able to get in and out of town," said Wolfgang Klawitte, a resident of the Saxony town of Grimma.
"We have no electricity and at some point we also need to get food."
The Zwickauer Mulde river broke its banks after days of rain and Grimma's old town was submerged. The river, usually at a level of about 1.6 meters, reached 6 meters on Monday.
ZOO SUBMERGED
Merkel later visited Pirna in Saxony and was due to stop in Greiz, in the eastern state of Thuringia in the afternoon. German Transport Minister Peter Ramsauer said he expected the damage in Germany to cost hundreds of millions of euros.
In the Czech Republic, areas to the south and north of the capital Prague were under water on Tuesday, including the zoo and horse racing track. Large parts of its subway system stayed shut with officials saying they would not reopen for days.
Czech electricity producer CEZ shut down its Melnik 2 and 3 coal-fired power plants on Tuesday as a preventative action against floods on the Elbe river.
Spolana, a chemical factory in Neratovice, north of Prague, said it had moved dangerous substances to a safe location and shut down all production.
The floods across the region sent shares in reinsurers Munich Re and Hannover Re down by about 2.5 percent on Monday, with markets anticipating big claims from property owners once the waters recede.
High water is likely to stop shipping on the Rhine in south Germany until at least Thursday morning, the local navigation authority said.
Shipping was stopped over the weekend on southern sections of the river and the river stayed closed to shipping south of Koblenz on Tuesday, it said.
REUTERS