Singapore Airlines To Order $17 Billion Aircraft From Airbus, Boeing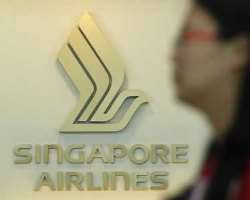 Singapore Airlines Ltd (SIAL.SI) agreed to spend $17 billion to buy 30 Airbus (EAD.PA) and 30 Boeing Co. (BA.N) aircraft, underscoring the airline's bet on a pick-up in the struggling premium class market.
The significant orders announced on Thursday make Singapore Airlines (SIA) the long-awaited launch customer for a proposed stretched version of the 787 Dreamliner, boosting Boeing's plans to offer a 320-seat aircraft designed in large part for crowded intra-Asian routes.
The move comes as SIA attempts a big strategy overhaul, pushing into the budget airlines segment and expanding its regional network.
"They demonstrate our commitment to the Singapore hub and our confidence in the future for premium full-service travel," SIA Chief Executive Goh Choon Phong said in a statement.
"Today's aircraft orders are among the biggest in Singapore Airlines' history, helping to ensure that we retain our industry leading position."
This month, SIA reported weaker-than-expected full-year results and warned of a deteriorating environment as it struggles to cope with the rapid emergence of Gulf carriers and low cost Asian rivals such as Malaysia's AirAsia Bhd (AIRA.KL) and Indonesia's Lion Air.
State-backed Emirates Airline, Etihad Airways and Qatar Airways are stitching deals, while Gulf states race to become regional hubs linking Asia-Pacific and Europe.
Boeing has been talking up the possibility of a third model of its newest passenger plane for over a year. But the project took a back seat as Boeing grappled with a three-month grounding of the 787 fleet due to battery problems earlier this year.
Code-named 787-10X, the Dreamliner stretch would offer airlines about 50 more seats than the largest version of 787 now under development but less range, making it suitable for dense routes within Asia or across the Atlantic.
Industry sources say the first provisional sale of the 787-10X, which will be known simply as 787-10 once the Boeing board formally agrees to launch the project, increases the prospect that Boeing will increase production of the 787 beyond a planned level of 10 a month that it aims to reach at end-2013.
Boeing Chief Executive Jim McNerney hinted at the growing possibility of a further output rise for the 787's global supply chain last week, telling shareholders that "the next possible rate up decision that we haven't talked about out loud is 787".
The order is subject to Boeing deciding to go ahead with the project, SIA said. The planes are for delivery from SIA's financial year starting from 2016/17. SIA's financial year ends in March.
The carefully balanced deal also delivers a boost to Boeing's European rival by boosting its position at SIA Group's main airline and offering a tentative endorsement of the largest version of Airbus's new A350 -- the 350-seat A350-1000.
After a slow start, the A350-1000 has been picking up orders in recent months, prompting Boeing to go public with plans to sell a revamped version of its successful 777 mini-jumbo.
SIA said it had agreed to order 30 additional A350-900 aircraft on top of 40 already ordered, potentially making it the largest customer for the main model of Europe's newest passenger jet, which is due to make its maiden flight in coming weeks.
It also took options for 20 more A350-900 aircraft and said these could be converted to the larger A350-1000.
REUTERS