Fani-Kayode defects to APC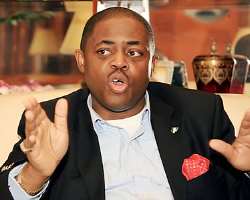 A former Minister of Aviation, Femi Fani-Kayode, has  announced his defection from the ruling Peoples Democratic Party to the yet-to-be-registered All Progressives Congress.
In a post on his Facebook post, Mr. Fani-Kayode said he took the decision after he met with Ekiti State Governor, Kayode Fayemi earlier today.
'I had a meeting with Gov. Kayode Fayemi afterwards and I have just publicly and formally declared for the APC,' the former minister said. 'For me this is a great and historic day. Goodbye forever PDP.'
He said he met Mr. Fayemi after he chaired the public presentation of  a book written by an old friend, Bunmi Aborishade, who now teaches journalism at the Afe Babalola University, Ado Ekiti.
It is believed that the former minister's defection is not entirely surprising. Even while a member of the ruling party, Mr. Fani-Kayode, had become one of the dedicated critics of the President Goodluck Jonathan's administration and has always been seen in the company of the leading lights of the opposition.
The former minister is a loyalist of ex-President Olusegun Obasanjo but it is not clear whether he sought the former president's counsel before defecting to the opposition.