'They brainwashed him': Mother of Woolwich murder suspect battled to turn him against extremism amid concerns he was 'turning against the family'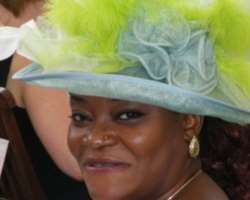 Juliet Obasuyi became increasingly concerned about Michael Adebowale
43-year-old mother was often left in tears after speaking to him
She wanted him to have 'spiritual guidance' before he radicalised himself
'He is turning against the family' she tearfully told a friend
Father of murdered schoolboy Damilola Taylor 'mentored' Adebowale
Adebowale and Michael Adebolajo arrested after death of Lee Rigby
The mother of one of the men suspected of butchering a British solider on a London street desperately battled to turn him against extremism after becoming concerned by his behaviour, it has been claimed.
Friends say Juliet Obasuyi was worried Michael Adebowale was turning against the family and wanted him to have 'spiritual guidance' before he radicalised himself.
The 43-year-old was often left in tears after speaking to her son and would approach neighbours and friends for help.
One of her neighbours said Mrs Obasuyi went to him about nine months ago after her son dropped out of university.
According to the Daily Telegraph, Mrs Obasuyi told her 62-year-old security officer neighbour that her son was not listening anymore.
'His older sister is a good Christian with a degree but Michael is rebelling as he has no father figure, dropping out of university and handing out leaflets in Woolwich town centre.
'He is from a strong Christian family but he is turning to Islam and turning against the family. He needs spiritual guidance before he radicalises himself."
Another friend of Mrs Obasuyi, Steve Adebiyi, told the newspaper that Adebowale was giving his mother problems.
'They brainwashed him,' he said.
Dailymail.co.uk