Witness Undermines Case Against Russian Protest Leader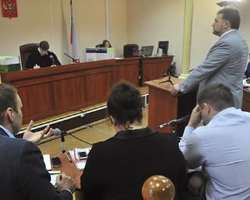 A Russian official undermined state prosecutors' case against protest leader Alexei Navalny at his trial on theft charges on Wednesday, saying that he had done no harm.
Navalny, one of President Vladimir Putin's biggest critics, said the testimony of Kirov region governor Nikita Belykh showed he was not guilty of charges of stealing from a timber company.
But he said he still expected to be convicted because he was not getting a fair trial.
Nvalny, an anti-corruption blogger who led demonstrations against Putin's return to the presidency last year, says he faces trumped-up charges and a possible 10-year jail term as punishment for his opposition to the ex-KGB spy.
Belykh, for whom Navalny was working as a political adviser at the time of the alleged crime, was summoned as a witness by state prosecutors at his trial in Kirov, about 900 km (560 miles) northeast of Moscow.
But his remarks are more likely to boost Navalny's defense than the prosecution case, based on allegations that he used an intermediary firm to sell wood at an artificially low price and cheat a timber company out of 16 million roubles ($500,000).
Asked whether anything Navalny did could have harmed the Kirov region, Belykh said: "Based on the information that I have, I have no reason to draw that conclusion."
Asked by Navalny, a trained lawyer, whether he thought his former employee could have ensured the sale violated the law, Belykh said: "Knowing your attitude towards this law, no."
In what amounted to a good character reference, Belykh told Navalny he had met him more often than other advisers while he was working in Kirov.
NAVALNY SAYS JUDGE WILL NOT DECIDE VERDICT
Navalny is the most prominent opposition figure to go on trial since Soviet times. Government opponents say the trial is part of a clampdown on dissent by Putin since he began a six-year presidential term a year ago after a stint as premier.
Navalny, 36, denies the charges but has said the verdict will be dictated by Putin, an accusation the Kremlin denies.
"Unfortunately, I have a distinct feeling that the verdict will not be written by the wonderful judge but by somebody else instead," Navalny told reporters in the courtroom.
The Kremlin denies such accusations, saying it does not interfere in the justice system for political purposes. It is not clear when the verdict is likely.
Navalny emerged as a prominent opposition leader during protests that began in December 2011 and grew into the biggest of Putin's 13 years in power, although they have since dwindled.
In 2009, he was asked as Belykh's political adviser to help turn around the fortunes of state-run Kirovles, a company which controlled most of the region's timber but has now gone bankrupt.
Belykh, 37, is one of only nine governors of Russia's 83 regions who is not a member of the dominant United Russia party.
A former opposition party leader, he was appointed governor by Dmitry Medvedev, the relatively liberal ally Putin steered into the presidency in 2008 when he was barred from running for re-election after serving two straight terms.
REUTERS