Attempt To Kidnap Egwu Foiled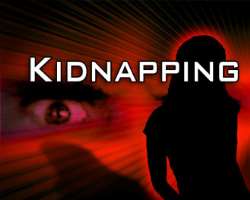 By Atika Balal
Four suspects who planned to kidnap the Minister of Education Dr. Sam Egwu and his Labour and Productivity counterpart Prince Adetokunbo Kayode, SAN, had their plans foiled by the State Security Service [SSS], it was revealed yesterday.
Parading the suspected kidnappers to newsmen in Abuja, the service's Assistant Director, Public Relations Marilyn Ogar said all four suspects who were arrested on September 12 have owned up to the plot and have outlined the strategies they adopted to achieve their objective.
She said 58 year-old Abdallah Alfa, who claims to be a former Nigerian Ambassador to Spain, had recruited Kingsley Njoku Obi, 23, Aniabor Ochuko, 27 and Chilaka Rowland, 28, who are all students of the University of Abuja, to carry out the two ministers' abduction.
Alfa, who the SSS described as "an incurable fraudster," was said to have been associated with previous attempts to obtain money from various people under false pretences. He hails from Dekina in Kogi State, but claims to come from Kano. The security service said he both initiated and promised to bankroll the botched kidnap operation. SSS said Alfa also promised his recruits N14 million as their cut from the operation, and promised an initial payment of N4 million.
The apprehended men told the SSS that the plan was designed to serve as a forceful way of ending the ongoing strike action by the Academic Staff Union of Universities (ASUU) and other university staff unions.
Mrs. Ogar said, "The Minister of education was to be forced to sign an alleged agreement with ASUU. They also planned to demand the sum of N300 million from the Federal Government as ransom for the release of the ministers, even though Egwu was to be eventually killed had the kidnap been successful."
She said the choice of using students for the operation was to make it look as though it was geared towards ending the protracted faceoff between government and ASUU.
"It is unfortunate that Alfa, who is supposed to serve as a role model to the younger ones cajoled them into embarking on the nefarious act, thus capitalizing on their seeming frustrations and desperation to go back to school by all means, " the SSS spokeswoman said.
While calling on parents and guardians to ensure that they become watchdogs of their wards and children so as to ensure they do not engage in acts contrary to orderliness and security, she urged members of the public to partner with the SSS to ensure safety for all law abiding citizens.
Responding to questions from newsmen, Alfa initially denied attempting any kidnap, but he later said the boys had requested for money and a car from him to enable them execute the kidnappings.
Also responding to reporters' questions, Ochuko said Alfa had expressed his worry over the unending strike and advised that they kidnap the ministers in return for a ransom of N1 billion.
"A total of 4 million was budgeted as mobilization fee. We were to ask the government for 300 million naira as ransom, ask the ministers to change their offices to lower ones and also demand that the Minister of Education be under Alfa's bidding," Ochuko said.
Rowland, who owned up to being a member of the Black Axe Confraternity, said he hails from Mbaise Local Government Area of Imo State and is a final year student of Political Science at Uniabuja.
Ochuku hails from Oha Town in Delta State. He is a diploma student at the university but claims to be studying computer science, while Obi is a final year student of Political Science who resides in Abuja. The SSS said all four suspects will be handed over to the Police for prosecution.
|
Article source