Late Achebe Emerges Nigerian Patriot In PDP-Sponsored Promo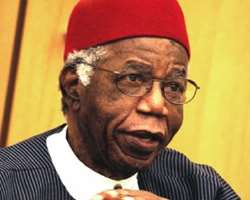 SAN FRANCISCO, May 16, (THEWILL) – The late literary icon, Prof. Chinua Achebe, has been voted as the Nigerian Patriot whose selflessness inspired many since independence.
His nomination in the social media sponsored promo entitled, The Nigeria Patriot Search and powered by the Peoples Democratic Party (PDP) received the highest number of votes.
This came as a senior architect at Centre Point Technologies, Uyo, Akwa Ibom State,Mr. Destiny Young, who nominated Achebe, emerged winner of the promo that ran on the PDP official Facebook page (officialpeoplesdemocraticparty) from April 17 to May 15.
Announcing the winner in the strongly contested competition, PDP National Publicity Secretary, Chief Olisa Metuh, said in a statement issued on Thursday that the exercise was. aimed at searching for the most patriotic Nigerian whose selflessness inspired many Nigerians sinc independence . He added that the contest was to engage Nigerians in a soul searching to immortalise Nigerian citizens that have positively impacted on the society.
"We initiated this promo with the objective to identify that Nigerian whose selflessness is worth emulating and who should be seen as a Hero by every Nigerian. This is part of a re-orientation campaign we have initiated towards our goal of sustaining national unity. I wish to congratulate Mr. Young Destiny as the winner of this contest and also appreciate every Nigerian who took part in this exercise," Mtuh said.
The promo which ended on Wednesday at 6 pm, attracted many comments and "likes" and was shared by a lot of Facebook users. The person whose comment had the highest number of "likes" was to be declared the winner and have an opportunity of meeting and having dinner with a PDP Governor or Minister of their choice.
Metuh observed that the exercise was completely transparent and that the winner emerged based on automatic on-line and real time counting by. Facebook which eliminated any form of participation or interference by. the organisers.
He also congratulated the runner-ups which include Musa Mikaya who nominated Gen. Yakubu Gowon; Toba Owojaiye, who nominated of General Theophilus Danjuma as well as Miss Nonye Amaliri, who nominated the General Overseer of the Redeemed Christian Church of God, Pastor Enoch Adeboye, to emerge the only lady on the first four runners-up.
The PDP spokesman urged Nigerians, especially the youth to take advantage of the PDP social media platforms including the party's facebook and twitter accounts as well as its website to participate in national discourse and to get information on the activities of the party.