Rampaging Policemen Brutalise Doctors, Health Workers At University Teaching Hospital Maiduguri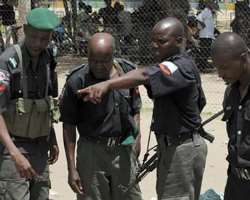 SAN FRANCISCO, May 09, (THEWILL) – Hell was let loose on Thursday at the University of Maiduguri Teaching Hospital (UMTH) as some angry policemen went on rampage beating up doctors and health workers at the hospital over alleged rejection of the decomposing remains of their slain colleagues brought in from Bama.
Apparently pained by the agonising death of their colleagues and the rejection of their corpses, about 20 mobile policemen were said to have stormed the hospital premises, shooting sporadically into the air as they shut down the operations at the hospital for about five hours.
Mortuary attendants and other senior staff who tried to intervene were said to have been beaten up by the policemen.
It will be recalled that about 22 police officers, among others, were reportedly beheaded by suspected Boko Haram members during the carnage in Bama on Tuesday.
Narrating their experience to journalists after the siege, the health workers said the incident started at about 8am as the hospital was shut till about 1pm to the outside world.
The Registrar of Histopathology department, Dr Kabir Abba,was said to have sustained a fracture in the ensuing confusion.
It was also gathered that relatives of some of the slain policemen had come to the hospital to pick up the corpses of their family members.
A mortuary attendant who simply identified himself as Bukar narrated his experience to journalists: "The morgue is already filled up and there was no space to put the bodies, so when they came this morning, seeing the corpses, they started beating any workers in sight. They also broke some windows at the laboratory department.''
A senior official at the hospital craving anonymity said '' The chillers at the hospital is filled to capacity and cannot accommodate any corpse. Even some of the chillers have broken down and the department of histopathology is making arrangement to embalm some of the corpses. But to our surprise, we just saw policemen who came here around 8am and started molesting people." According to him, most of the bodies were already decomposing when they brought them to the hospital and it was also gathered that it took the intervention of the men of the Joint Task Force (JTF) who came in to calm the situation.
The Borno State Commissioner of Police, Abdullahi Yuguda, could not be reached to confirm the incident as his aides rebuffed every effort made by journalists to get to him.
However, the president of the resident doctors association of the hospital, Dr Mohammed Yahaya, told newsmen that his members will go on indefinite strike to protest the inhuman treatment meted out to the staff of the hospital by the policemen.
He alleged that about 20 policemen invaded the institution and started harassing people including workers and patients.