A'Ibom : Police Nab 50 Persons For Unauthorised Use Of Vehicles With Tinted Glasses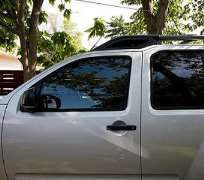 SAN FRANCISCO, April 12, (THEWILL) - The Akwa Ibom State Police Command has arrested no fewer than 50 persons and impounded their vehicles for using tinted glasses without the due approval of the Inspector General of Police, Mr. Muhammad Abubakar.
Disclosing this in Uyo, the state capital, Police Public Relations Officer (PPRO) in the state, Mr. Etim Dickson, said the persons who were arrested in three Local Government Councils of Ikot Ekpene,Uruan and Uyo, the state capital, respectively are to be prosecuted soon.
He said due to the security challenges in the country, it had become an offence punishable by law for private individuals to drive cars fitted with tinted glasses without the due authorisation of the Inspector-General of Police.
"Our country is going through very serious security challenges at the moment, and the law enforcement agencies have to be up and doing to ensure that Nigerians sleep with their eyes closed.
" So every possible avenue use by criminals to perpetuate crime has to be monitored to curtail their excesses,'' he explained.
Dickson stated further that anyone whose vehicle is impounded for this reason would be made to face the full wrath of the law with penalty of not less than six months imprisonment or payment of a fine as stipulated by the law guiding the acts.
He said the enforcement of the law had become necessary because of the frequent use of such vehicles by criminals.
The PPRO however said permission could be granted for the use of such vehicle if only it is proven that the owner has a health problem that does not permit the use of cars with transparent glasses.