Baroness Thatcher Was One Of The Greatest - President Jonathan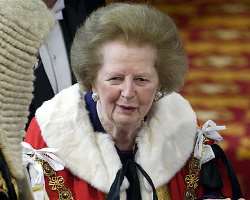 LATE BARONESS MARGARET THATCHER
SAN FRACISCO, April 08, (THEWILL) – President Goodluck Ebele Jonathan has described the deceased former Prime Minister of the Great Britain, Baroness Margaret Thatcher, as "one of the greatest world leaders of our time."
Thatcher died Monday morning after suffering a stroke.
The Nigerian President in a statement, Monday, by spokesman, Dr. Reuben Abati expressed condolences to the British government and Britons.
The full text of the statement reads: "On behalf of himself, the Federal Government and people of Nigeria, President Goodluck Jonathan extends sincere condolences to government and people of Great Britain on the death this morning of former Prime Minister Margaret Thatcher.
President Jonathan and Nigerians join the Thatcher family, citizens of Great Britain, members of the Commonwealth and all those in far-flung corners of the world whose lives were positively touched by her dynamic and forward-looking policies in mourning the passage of the celebrated first female British Prime Minister.
The President believes that having already attained a legendary status in her lifetime after positively transforming Britain forever in her eleven and half years as Prime Minister, Baroness Thatcher will, with her passage today formally take her place in history as one the greatest world leaders of our time.
President Jonathan notes that Baroness Thatcher will be eternally honoured for serving her country with immense passion and strong-willed determination as well as for the great transformation that resulted from her economic and social policies which laid the solid basis for the remarkable economic growth that was witnessed in Britain under the Conservative Government that she led. 

The late Baroness Thatcher, the President believes, will always be remembered by the world for her very unique, distinctive and purposeful leadership which restored pride and respect to her country and made a resurgent Great Britain a force to be reckoned with on the global stage.
He assures the Prime Minister David Cameron and the people of Britain that the government and people of Nigeria share their sadness and deep sense of loss at the passage of Lady Thatcher and join them in praying for the peaceful repose of her great soul."