Lemar becomes Ambassador for No Smoking DaySoul star Lemar has become an Ambassador for the charity No Smoking Day.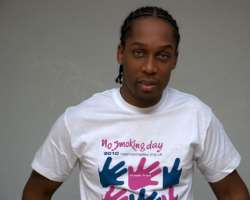 Thanks to his mother's strongly held opposition to smoking Lemar has never taken up the habit, and is all too aware of the damage that smoking causes to people's lives. That is why he has welcomed the opportunity to support one of the UK's leading health campaign for smokers who want to quit - No Smoking Day.
No Smoking Day 2010 takes place on Wednesday 10 March and is the 27thannual campaign. Each year, nearly one million smokers quit on the Day.
Lemar said: "The campaign message is 'Break Free'. If, by supporting No Smoking Day, I can help one person to break free from the chains of their smoking addiction, then I believe that my role as an Ambassador will have been worthwhile. I feel that No Smoking Day is the perfect opportunity to provide hope and help to smokers in a non-judgemental way - I'm proud to be a supporter."
Duncan Bannatyne OBE, President of No Smoking Day, commented: "We're delighted to have Lemar as an Ambassador for the charity. His passionate desire to encourage people to become smokefree will, I'm sure, make him a very effective advocate for our work."